Trouble & Trix Lightweight Plus Baking Soda Cat Litter
4 payments of
$11.50
with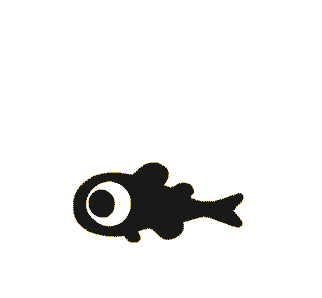 This product has been added to your cart
People who bought this also bought
Share a home, not the odour.
The Trouble & Trix Lightweight Fresh Floral litter uses baking soda to neutralise urine odours. Made from bentonite and cellulose which are highly absorbent, this combination traps the liquid and locks in ammonia odours providing a fresh floral scent. This natural and biodegradable litter forms an easy-to-clean one scoop clump. Its innovative lightweight formulation reduces the average bag weight of up to 35% than traditional clumping litter, making it much easier to carry around and refill the litter tray.

The Trouble & Trix cat litter range combines superior, long-lasting odour control, rapid absorption, and enhanced cleaning convenience via scoopable clumps or a fresher, lower maintenance home environment. Ranging from good to extreme odour control in a variety of litter styles, Trouble & Trix cat litter ensures the home you share with your cat is always clean and fresh.

Each 15L bag lasts 14 weeks.
Guide based on an average size, healthy cat, fed on premium dry food. Longevity of the product may vary based on your cat's diet. Some cats may prefer one litter type or litter tray. If your cat will not use a particular litter, try one of our other litters or ask your vet's advice. A standard 30 x 40cm litter tray filled to 4cm deep is recommended. Longevity may be affected if filled above this level.
Instructions:
• Fill a clean, empty litter tray to a depth of 4cm (use liner if desired). Position tray in a convenient place for the cat.
• Maintain litter freshness by regularly removing soiled waste with a scoop. Dispose of used litter in garbage.
• Wash tray regularly. Always wash hands after use.

• Up to 35% lighter than traditional clumping litter
• Highly absorbent
• Baking soda neutralizes urine odours
• Forms easy-to-clean, scoopable clumps
• Ideal for all indoor litter trays
• Lasts one month longer than standard paper litter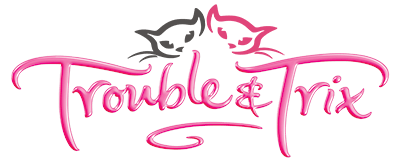 Trouble and Trix. We love cats!
It's an endless quest to win their affection but, as you know,
that's half the fun. Premium cat litter, trays & liners. Plus
clean up, toys and treats.

Over 50 years of experience, we are constantly working to
help you win your cat's affection. Our new tofu cat litters
are life changing and stay tuned into our endless quest to
create products that suit the needs of every cat owner.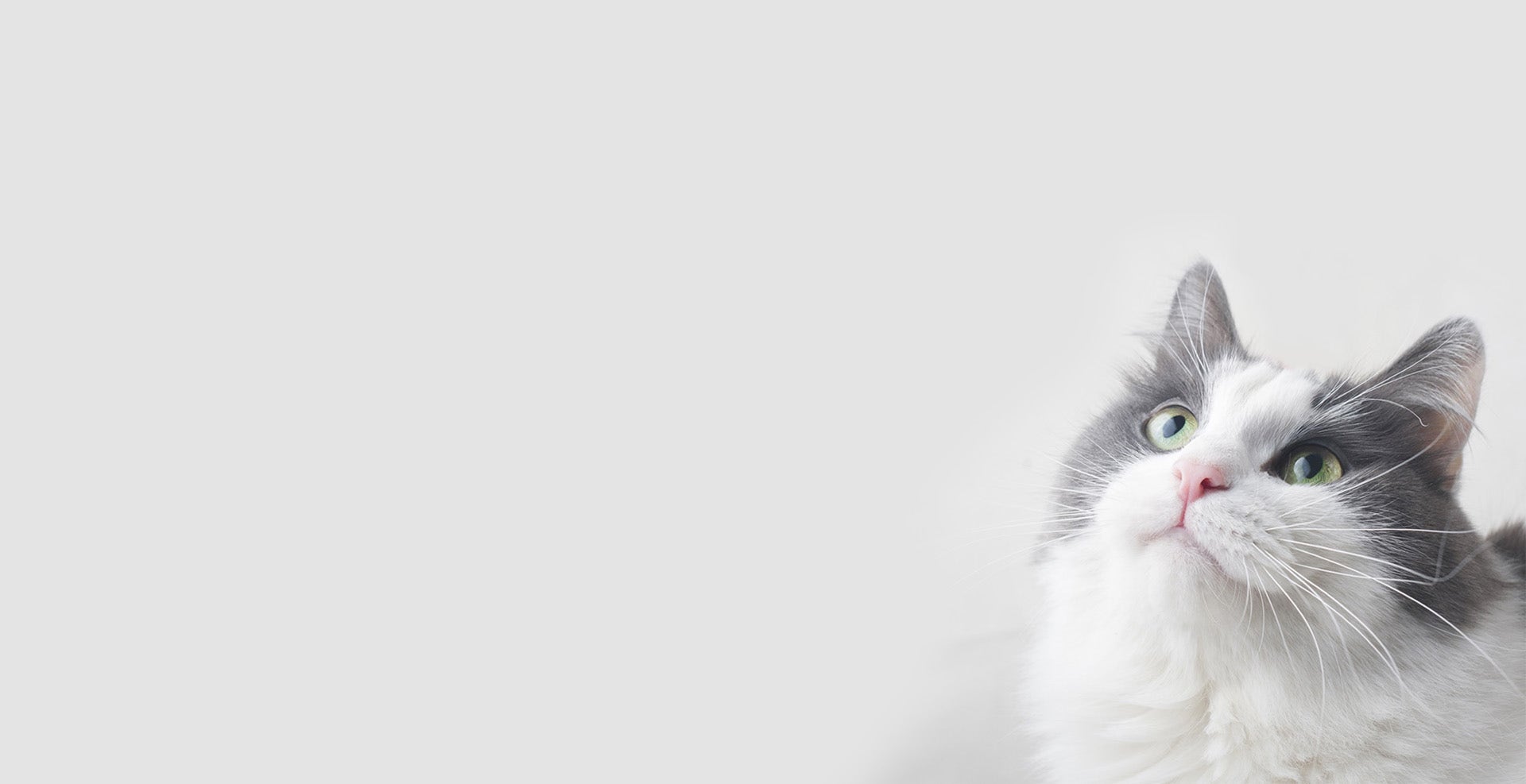 Natural Cat Litters
This litter is a game changer!!

Hi, I'd just like to say that after 16 years, 5 cats and using every kind of litter under the sun, I've started using your scoopable clumping soy bean pellets and it's a life changer!!! I'm beyond impressed!! Lightweight, easy to scoop, instant clumping, dustless, odourless and most importantly of all (for me) is that it doesn't TRACK!!! This Trouble and Trix litter is amazing and I just wanted to let everyone know.

Brooke, Cat mum to Dobby the Sphynx
★★★★★




Our range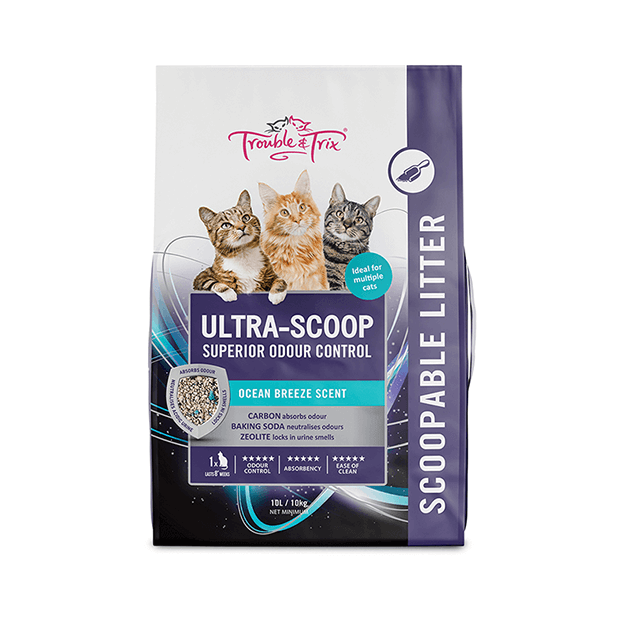 Forms scoopable clumps

Highly absorbant

Contains odour-neutralising baking soda

Scented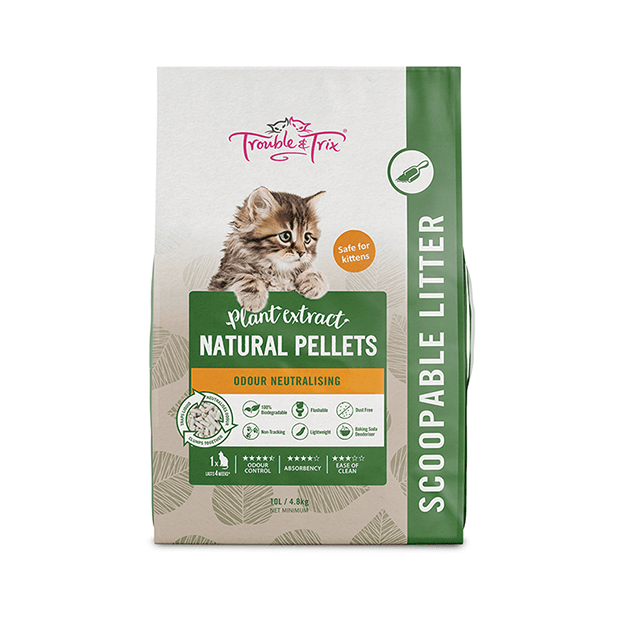 Forms scoopable clumps

Highly absorbant

Suitable for kittens

Contains odour-neutralising baking soda

Scent free

Biogradable

Garden-friendly
Natural

Perfect for eco-friendly households, our natural litter is derived from soy beans so is biodegradable. The dust free pellets clump for easy scooping and it's non-toxic so it's safe for playful and naughty young kittens who may nibble on it.


Crystal

Made from pure silica sand, offering long-lasting effectiveness with rapid absorbancy, odour control and dust tracking. It's lightweight and doesn't 'cling' as much as other litters can - keeping things clean.
Clumping

Superior absorption rapidly traps odours in an easy-to-clean, one-scoopy clump that accumulates at the top of the litter pile. Meaning minimal litter wastage and the inconvenience of cleaning soiled litter that otherwise sinks to the bottom of the tray.
Additional info

| | |
| --- | --- |
| Litter Type | Odour Control |
| Brand | Trouble & Trix |
| Litter Material | Clay |
| Litter Features | Clumping |
| Litter Fragrant | Fragrant |
| Product Category | Cat Litter |