About Petbarn Grooming Academy
Through the Petbarn Grooming Academy you will learn not only the practical skills needed to complete grooming services across different breeds and coats types, but also safe work practices, pet first aid, dog anatomy and dog psychology whilst gaining hands on experience in one of our professional salons. Our course has been designed to accommodate the practical learning needs to complete your practical assessment requirements. Heiniger Academy will provide your course literature and you will complete your assessments for accreditation during your training. At the Petbarn Grooming Academy, our practical 'hands-on' training offers learners a personalised and structured professional Industry specific course in dog grooming, and is suited for those:
entering the Industry,
wanting to attain qualifications, or
wanting to further develop their skill set
Course Information
Course Length
5-week 'hands-on' intensive practical training (Monday to Friday).
Class Size
3 students per class
Limited places available.
Small class sizes ensure there is enough time for 1-on-1 training.
Locations
Courses will initially be available in:
Sydney
Brisbane
Melbourne
Perth
Course Qualifications
Certificate III in Animal Care Services and Pet Grooming
Our Course is a combination of both theory and practical training including assessment. The training is delivered in a 'live' salon environment, where students will learn:
Safe work practices and handling skills
Bathing and various drying techniques
Performing clipping and scissoring techniques
Pet trims on variety of different coat types
Maintaining tools and equipment
Identifying different coat types for companion animals
Dog anatomy and psychology
applying basic first aid
Customer consultation
And more!
Learners will receive a comprehensive student workbook, have access to on-line modules and complete their practical assessments throughout the training. Heiniger will provide students a liason officer for any help with the online course content.
Graduates from the Petbarn Grooming Academy will receive an 'in-house' Pet Stylist certificate which will be issued on the successful completion of all criteria and assessments.
Heiniger will provide your national accreditation at the successful completion of the certificate course.
About our trainers
Our training is delivered by talented and experienced Senior Pet Stylists with more than 40 years of combined training and grooming experience. Our team is passionate, experienced and dedicated to ensuring our industry provides excellent pet care and grooming services as well as the highest standards of service excellence.
Why become a Pet Groomer?
Love dogs?
Turn your passion into a career! Pet grooming can be a fun, creative and rewarding experience both financially and personally.
With more than half of all households now owning a pet the demand for qualified groomers has never been higher. As industry leaders we feel strongly about developing highly skilled and qualified industry professionals that can safely and professionally provide grooming services to look after the needs of Australia's ever-growing pet population.
Successful graduates from the Petbarn Grooming Academy may also be given the opportunity to join Petbarn and our network of 109 salons nationally as a Trainee Pet Stylist where you can further your practical experience and education with a team that is passionate about pets.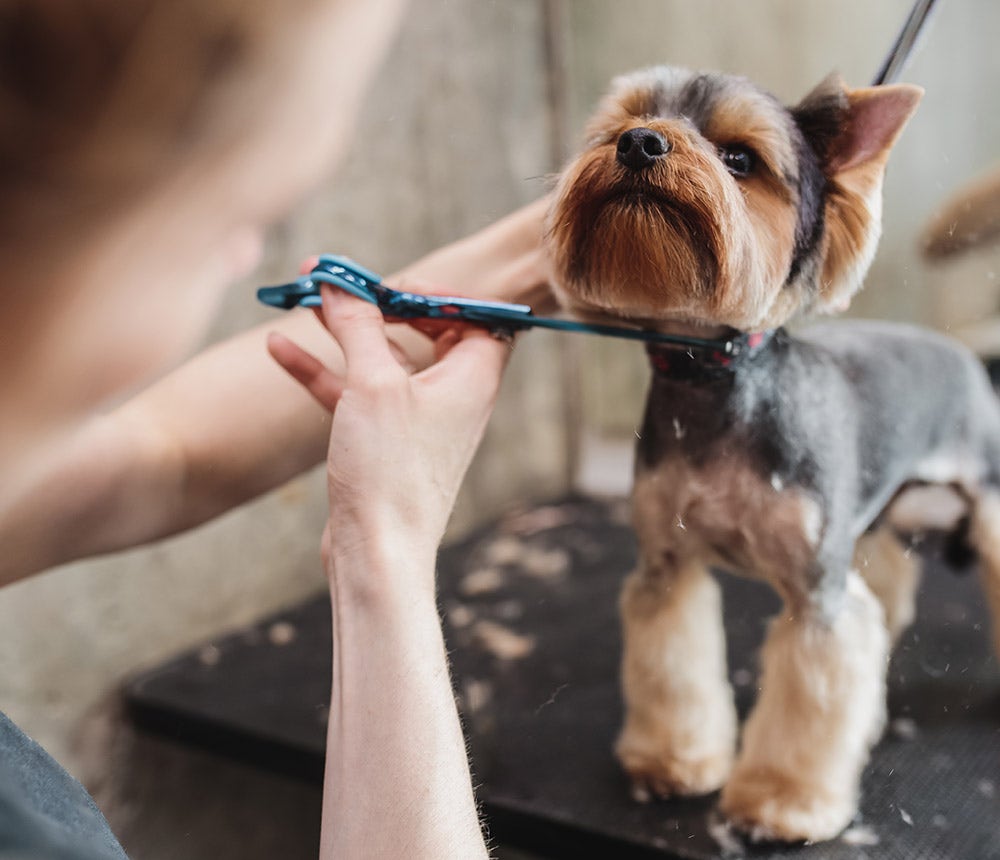 Want to learn more?
Please feel free to reach out to us if you have any questions or concerns
Enrol Now
If you feel you are perfect for this course, please apply below
Testimonials
"I was previously working in retail within the company but I felt ready for a career change. The opportunity to enrol in academy came up and I jumped at the chance and it was honestly the best decision I have ever made. After having no background in grooming, the course gave me all the skills and knowledge to transition into a salon and carry out grooms with little to no assistance. I was surprised on how much I learnt over the 5 week course. The learning material, real salon environment and trainer was amazing. You not only learn how to groom but also animal handling and care which is beneficial for a grooming job. The Trainer helped with everyone's individual strengths and weaknesses with the coaching and hands on experience, helping you groom with confidence at the height of your capabilities. Huge thank you to everyone involved for this opportunity! 10/10 would recommend, loved every minute."
Bella, QLD
"Absolutely. It is a wonderful, stress-free environment to learn to groom. This course exceeded all of my expectations when coming into grooming"
Jessamyn, QLD
"Over the Duration of this course, I learnt the basics of dog grooming and further expanded my knowledge in the animal industry. I thought that the Content in the course, and in the workbook was well put together, easy to follow and corresponded well with the modules. It far exceeded my expectations, and because their was only 3 of us in the course I felt I could get that one on one training I needed, especially if I was struggling in a certain area. Lyndi was such an amazing trainer, she has such extensive knowledge and a passion for the industry! She gave me the confidence and guidance to be grooming a dog from start to finish in just over 5 weeks, something I could never have imagined would be possible. I am continuing to learn and grow in my grooming journey. Thankyou so much for everything!"
Rose, QLD
"I found the learning experience covered all the foundations of grooming to be able to step out feeling confident to start my grooming journey. It was informative and engaging."
Brittanie, QLD
"YES. The Trainers are patient with great knowledge. (They) don't let you give up"
Kara, QLD
"The course was very informative and fun. I expanded my knowledge on grooming and got to do hands on training which really helped with my confidence while grooming. I learnt how to do different types of grooms and the feedback I got helped me train my eye and improve even further. Overall, the course was extremely enjoyable and really helped me to understand grooming and improving my confidence."
Maddie, QLD