What an exciting time! You've adopted a puppy and you're almost ready to bring your new best friend home with you. Before you bring your new pet home you'll need to buy a few essential puppy supplies. Here's a handy puppy checklist of everything you need to get your home ready for the arrival of your new puppy, and to care for them every day afterwards.
Getting prepped
A collar, ID tag and lead
Your puppy can't explore the big wide world until they've had all their vaccinations, but while they're still at home it's important that you use this time to familiarise them with a soft puppy collar and lead. You'll have so much fun choosing one that suits your puppy's style. Identification tags that display your puppy's name and your contact details are also a must in case they ever become lost.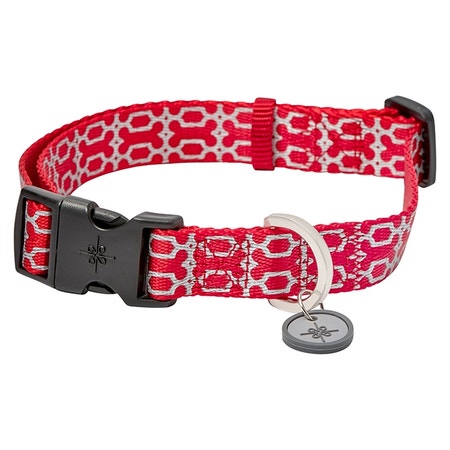 Good 2 Go Reflective Bone Dog Collar Red
$22.99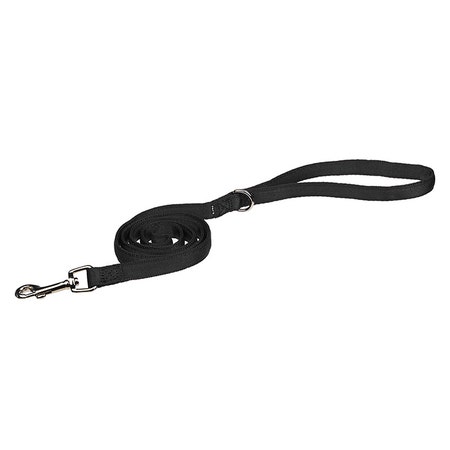 Animates Comfort Dog Lead Black
$34.99
My Family Daisy Charm Dog ID Tag
$30.99
Especially when they are teething, no item in your home, be it furniture or clothing, will be safe from the wrath of your puppy's tiny teeth. Arm yourself with anti-chew spray with a bitter scent that will discourage your puppy from chewing on your belongings. Fido's Chew Stop Bitter Spray and Training Aid for Puppies and Dogs 200ml
$17.99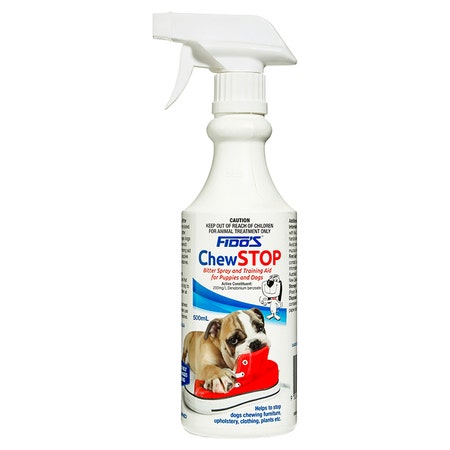 Fido's Chew Stop Bitter Spray 500mL
$31.99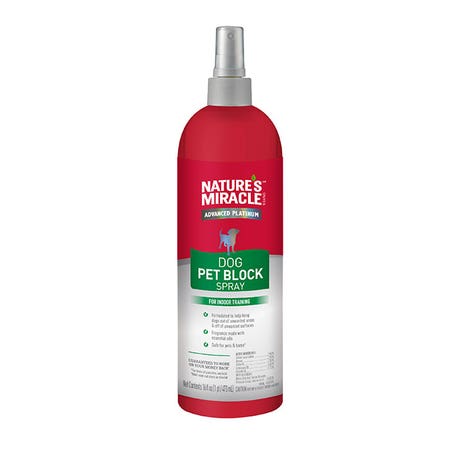 Nature's Miracle Advanced Platinum Pet Block Dog Spray 473ml
$26.39
Your young puppy's curious nature will often lead them to muddy puddles and the like. Keep their coat clean and smelling fresh with a gentle shampoo and conditioner that's suited for sensitive puppy skin. Have a supply of eye and ear cleaning products ready too.
Melanie Newman Salon Essentials Puppy Shampoo 500ml
$29.99
Fidos Puppy & Kitten Shampoo
$20.99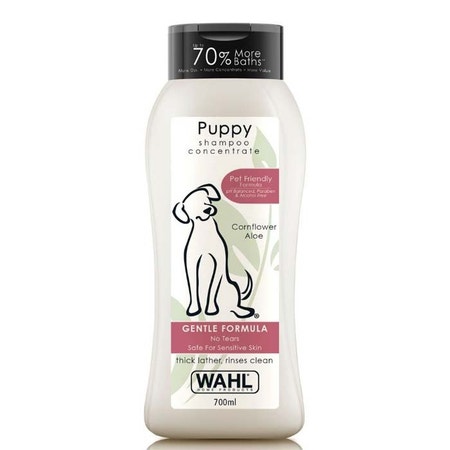 Wahl Puppy Shampoo 700ml
$23.99
Brushes, combs and nail clippers
Brushing is a great way to keep your pet neat and tidy without the hassle of washing them, and longer-haired puppies will need regular combing to ensure their coat does not have tangles. Even if your puppy has a short coat, it is recommended that initially you brush them every day to remove loose hair. You will also need to trim your puppy's nails. Visit your local Petbarn grooming salon to have your puppy professionally groomed.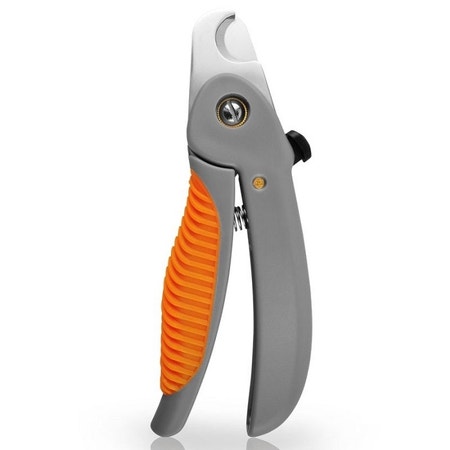 Wahl Dog Nail Clipper
$30.99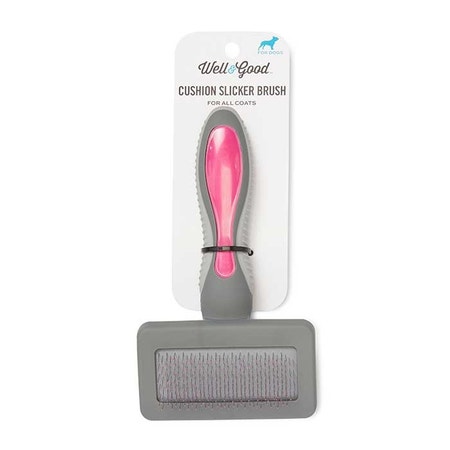 Well & Good Dog Slicker Brush Assorted Small
$26.99 Wahl Dog Deshedder
$35.99
Flea, tick and worming treatment
Parasites like fleas, ticks and worms can bring serious health risks with them. To find the best parasite prevention treatments for your unique puppy's age, breed and lifestyle, use our Flea, Tick and Worm Treatment Finder. NexGard Spectra for Dogs 2 – 3.5kg
$77.99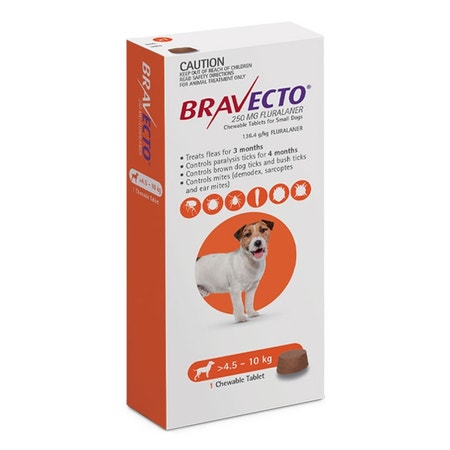 Bravecto Chew for Small Dogs 3 month pack – 4.5 to 10kg
$75.99 Advocate Green for Small Dog
$74.99
A toothbrush and toothpaste
Your puppy's dental health has serious implications for their overall health. Make sure that you establish a regular dental care routine from the start by using a dog-specific toothbrush and toothpaste and aim to brush your puppy's teeth on a daily basis.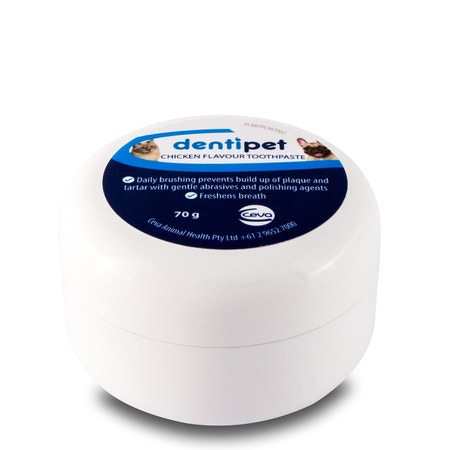 Dentipet Dog & Cat Toothpaste 70g Chicken Flavour
$28.99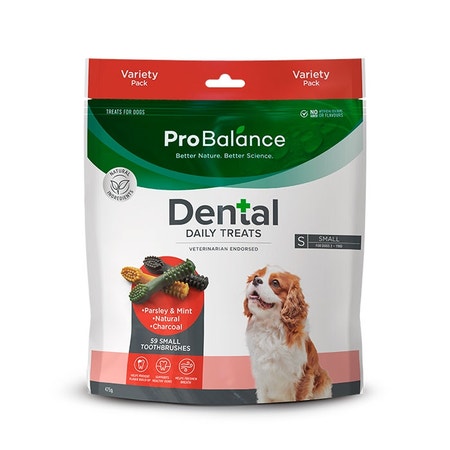 Probalance Toothbrush Variety Pack Small Dog Treat 59Pk
$28.99
All For Paws Sparkle Dog Toothpaste 60g
$17.99

Coming home
As part of their growth process, your puppy will be sleeping a lot so make sure you find a comfortable bed for their size, coat and more. Visit your local Petbarn and speak with a team member to get the best advice on dog beds.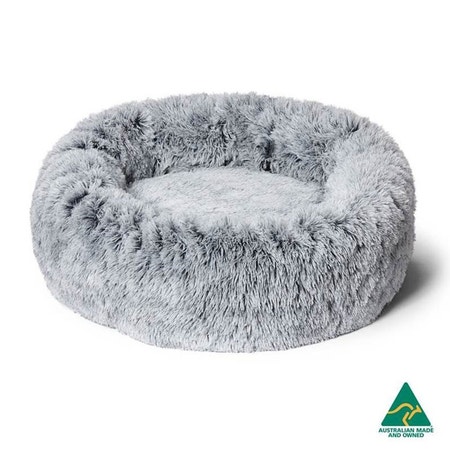 Snooza Faux Fur Cuddler Dog Basket Grey Small
$109.99
All Day Quilted Thermal Dog Basket Black Large
$149.99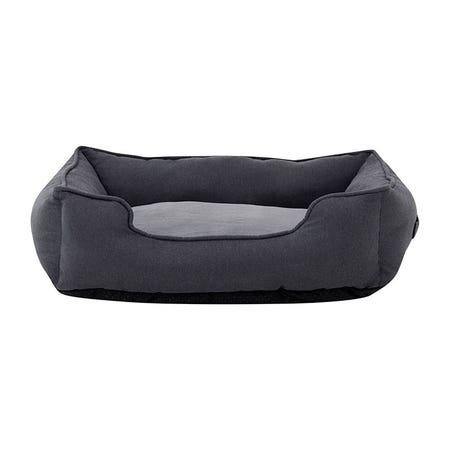 Harmony Low Front Square Dog Basket Charcoal S 60x50x18cm
$79.99
This is the first thing you'll need to consider when you're ready to bring your new puppy home. Consider their safety as priority number one and choose a car harness that suits their size and breed.
EzyDog X-Link Dog Harness Black Small
$79.99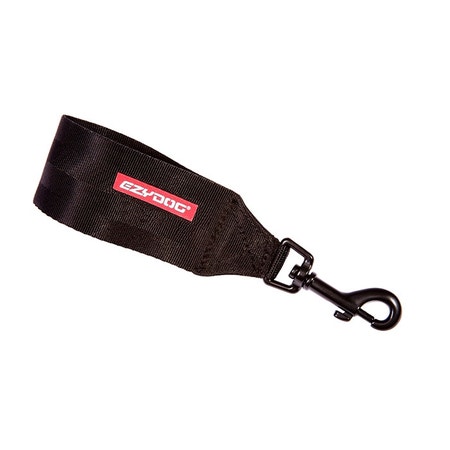 Ezydog Car Restraint
$15.99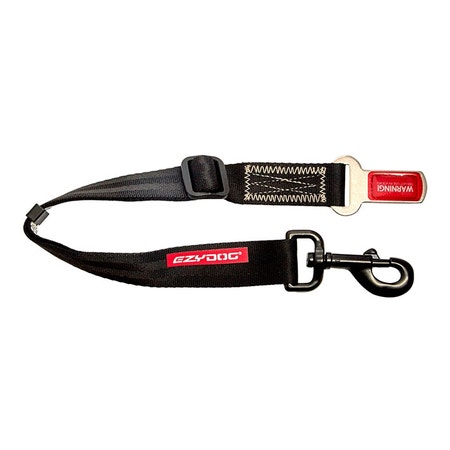 Ezydog Adjustable Car Restraint
$26.99
Depending on where your puppy will be sleeping, you should provide them with a good quality kennel or crate. Understand more of what to consider when choosing where your puppy should sleep by speaking to one of our friendly team members.
All Day 1 Door Dog Training Crate Large
$129.99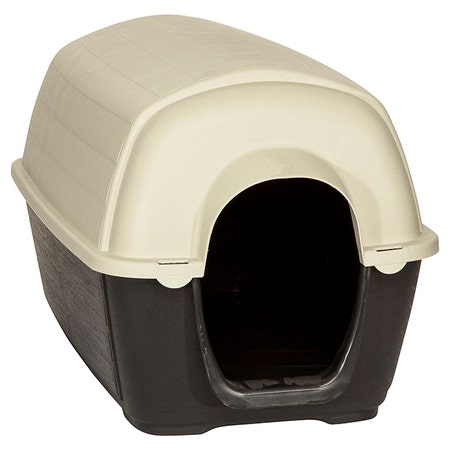 K9 Slumber Plastic Dog Kennel Grey
$99.99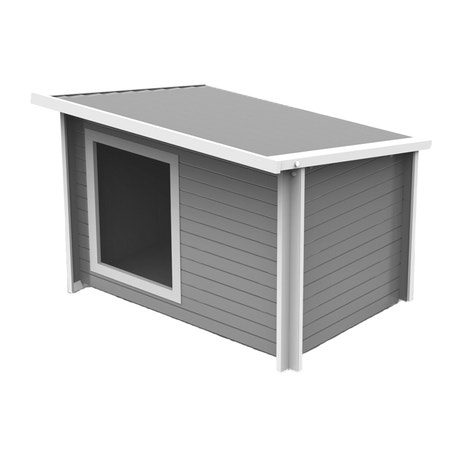 Ecoflex Rustic Lodge Dog Kennel Grey Large
$359
Moving to a new home can be overwhelming for a puppy so make sure that they feel safe and secure by providing them with their new favourite plush toy.
Afp Calm Paws Dog Anti Anxiety Plush Toy
$29.99
Mix Or Match Plush Rope Body Animals Dog Toy
$6.99 Mix or Match Smiley Face Plush Bone Dog Toy
$6.99
Feeding
Your puppy needs plenty of fresh water at all times as well as a bowl for their meals. Choose two dog bowls that will suit their size for at least the first year of their life.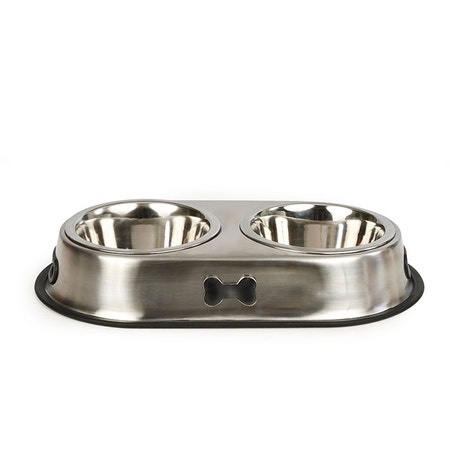 Harmony Bone Stainless Steel Double Dog Bowl 6.5 Cup Medium
$29.99
All Day Paw Print Stainless Steel Dog Bowl Aqua
$12.99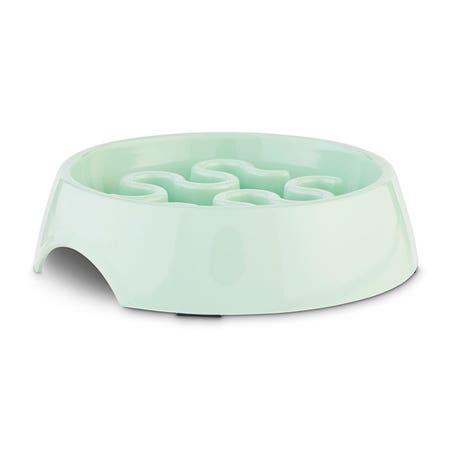 You & Me Melamine Round Slow Down Dog Bowl Mint
$17.99
Greencross Vets highly recommend that you feed your puppy quality food that is scientifically formulated to provide growing puppies with all the vitamins and minerals they need for strong development. If your puppy isn't already on super premium food, be sure to introduce it to them slowly so as not to upset their stomach. Use our Food Finder tool to discover the best diet that you should be feeding your puppy based on their age, breed, lifestyle and more. Hill's Science Diet Large Breed Puppy Dog Dry Food
$56.99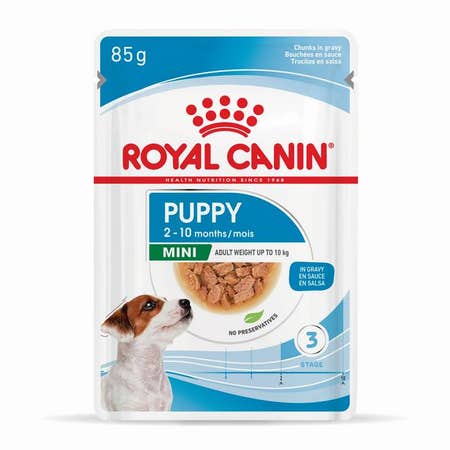 Royal Canin Mini Breed Junior Puppy Pouch 85gx12
$30.38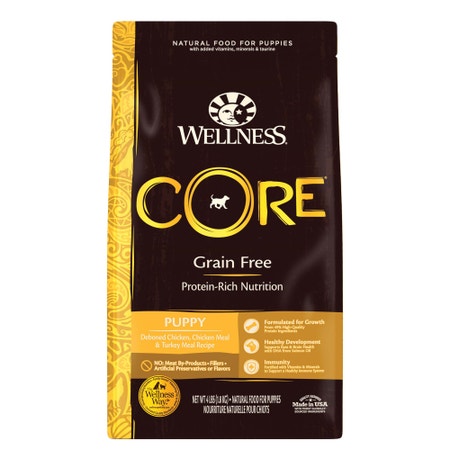 Wellness Core Puppy Food
$49.99
Your puppy's first weeks with you will involve a lot of lessons, so you'll need a supply of healthy puppy training treats on hand to reward good behaviour!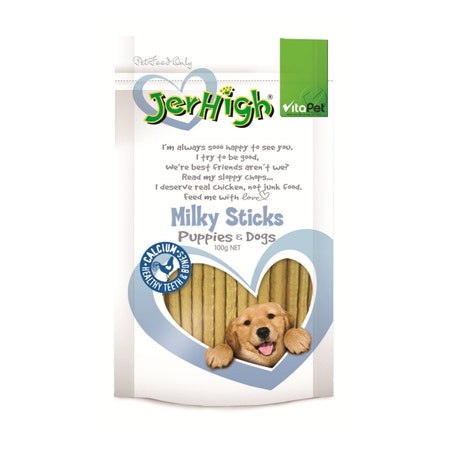 Vitapet Jerhigh Milky Sticks Dog Treat 100g
$6.99
SavourLife Australian Milky Training Dog Treats 150g
$14.99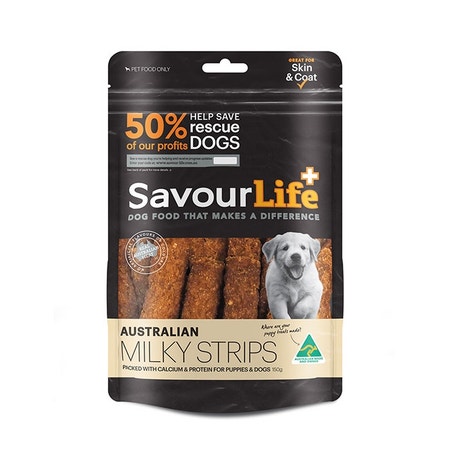 SavourLife Dog Treat Australian Milky Strips 150g
$14.99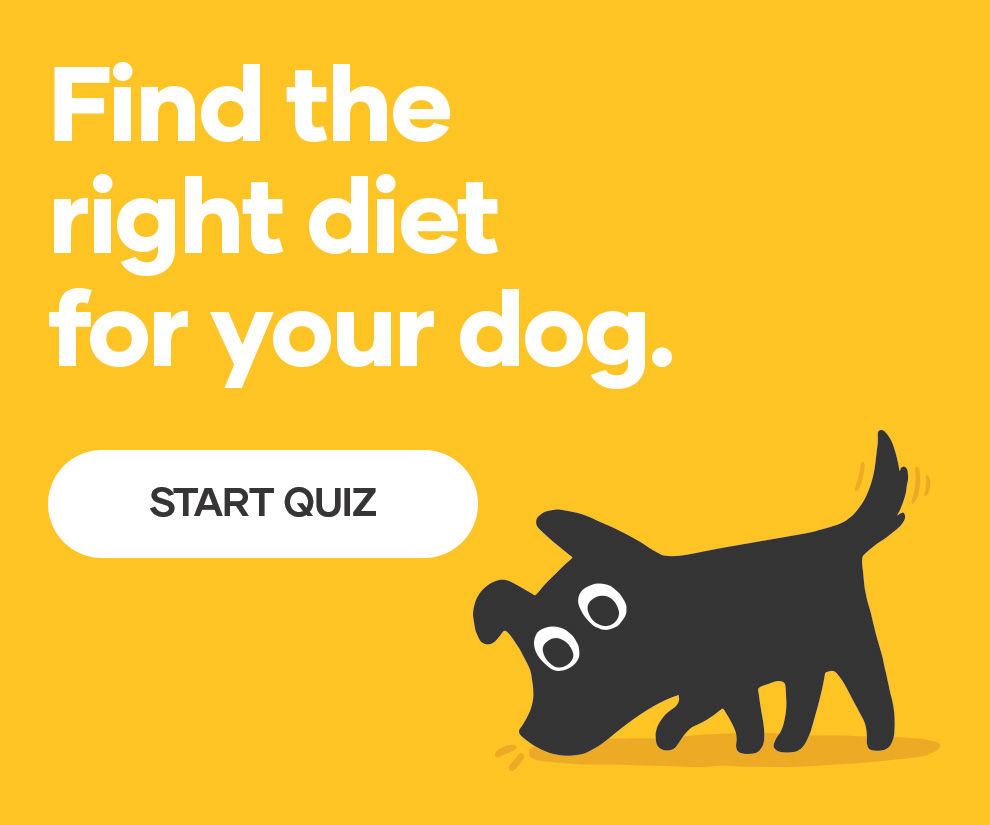 Crate Training
Crates are an ideal 'den' for your puppy and make toilet training and sleeping through the night a lot easier. Check out our advice on puppy crate training as the earlier you start, the better.
Make your puppy's crate a cosy place for them to retreat and relax by placing a soft bed mat inside.
Your puppy should always have access to a bowl of fresh water, even when they're in their crate.
A cuddly toy is a great way to entice your puppy into their crate and help them feel at ease when you're first beginning your crate training.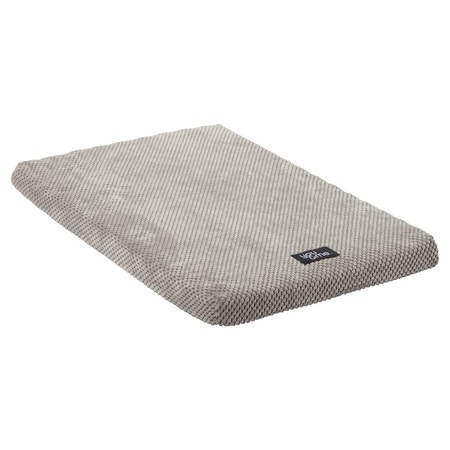 You & Me Grey Crate Mat Medium
$49.99
You & Me Minkee Bolster Rectangular Dog Crate Mat Cream Medium
$29.99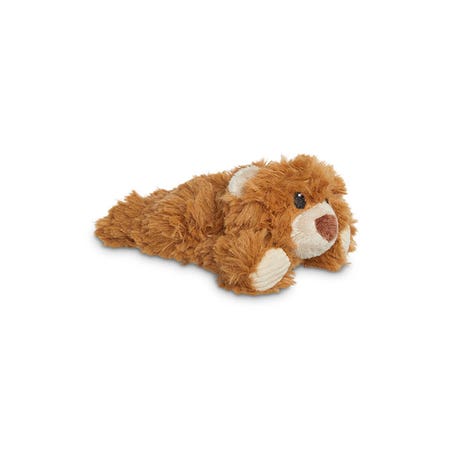 All Day Snuggle Bear Dog Toy Brown
$21.00
Playing
Puppies explore the world using their mouths, and this can involve a lot of unwanted chewing on your belongings. Satisfy your puppy with soft chew toys as an alternative to your favourite shoes, furniture and electrical cords.
KONG Teething Stick Puppy Toy Assorted
$23.99
Zeus Nosh Flexible Chicken Chew Bone Puppy Toy Small
$13.99
Kong Puppy Toy
$18.99
Your playful puppy will have a ball with all sorts of toys, so keep them focused on the right things to play with. We recommend having about five toys with different benefits you can rotate to avoid boredom.
Petbarn Dog Toy Fetch Ball
$9.49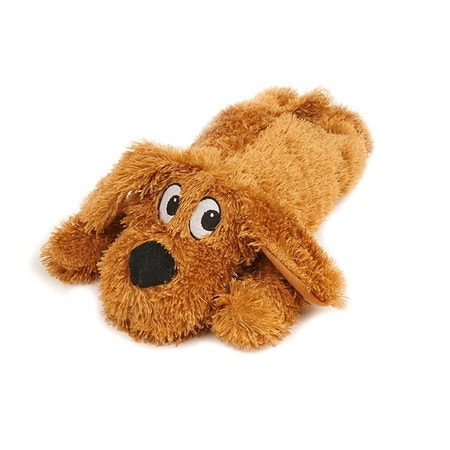 Cuddlies Muff Pups Puppy Toy Small
$27.99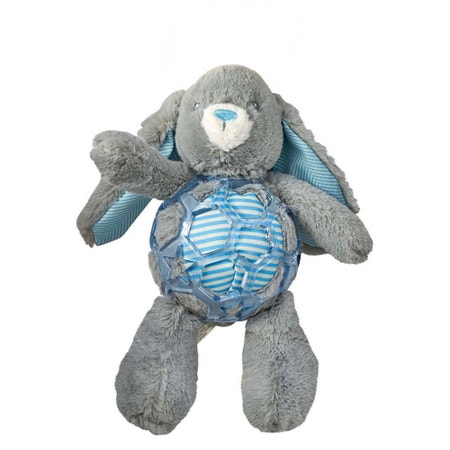 Mix or Match 20 Plush Bunny With Cage Ball Puppy Toy Asst Md
$14.99
Give your puppy lots of cuddles and show them love every time you play together so that you can strengthen your bond and become best friends for life!
Toilet Training
Odour or stain neutraliser
Hopefully you won't need to use odour and stain removal products too many times, but they're always good to have on hand for any accidents your puppy may make before they're fully toilet trained. Help your puppy learn all the basic cues and good behaviours by enrolling them in Petbarn's fun and interactive puppy school classes.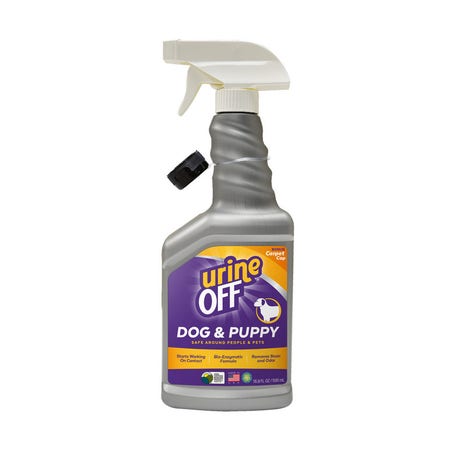 Urine Off Dog & Puppy Odour & Stain Remover Formula 500ml
$42.99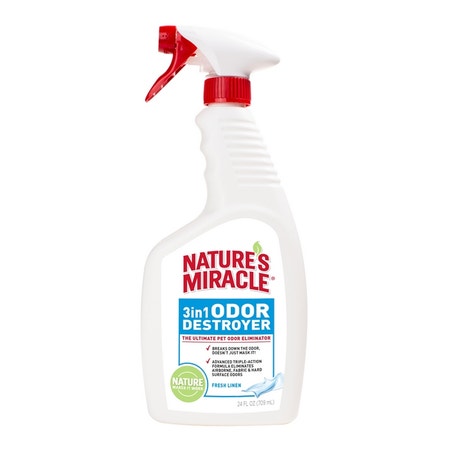 Nature's Miracle 3 In 1 Linen Pet Odour Destroy Spray 709ml
$36.99
Urine Off Hi Power Led Urine Finder Torch
$31.99
Especially for indoor pets and apartment-dwellers, puppy pads provide a dedicated area for your puppy to do their business and help them get started with their toilet training.
So Phresh Leak Guard 3 Cup Dog Training Pads 50 Pack
$48.99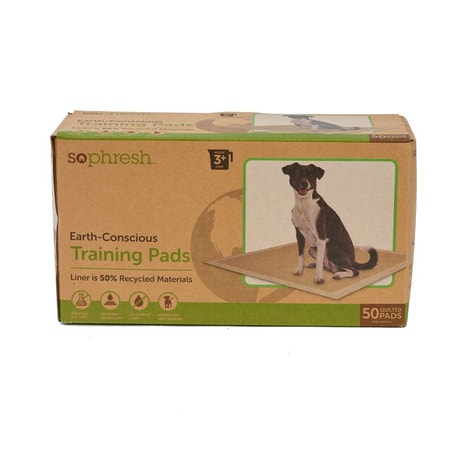 So Phresh Eco 3 Cup Dog Training Pads 50 Pack
$66.99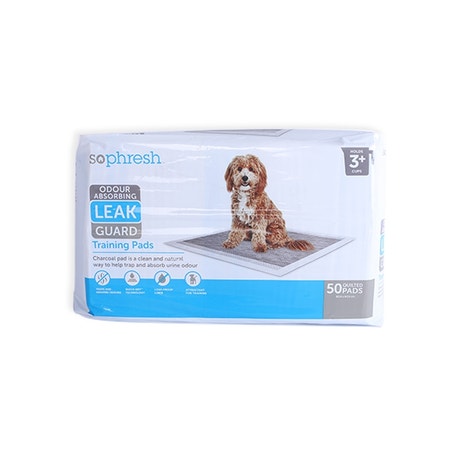 So Phresh Charcoal 3 Cup Dog Training Pads 50 Pack
$64.99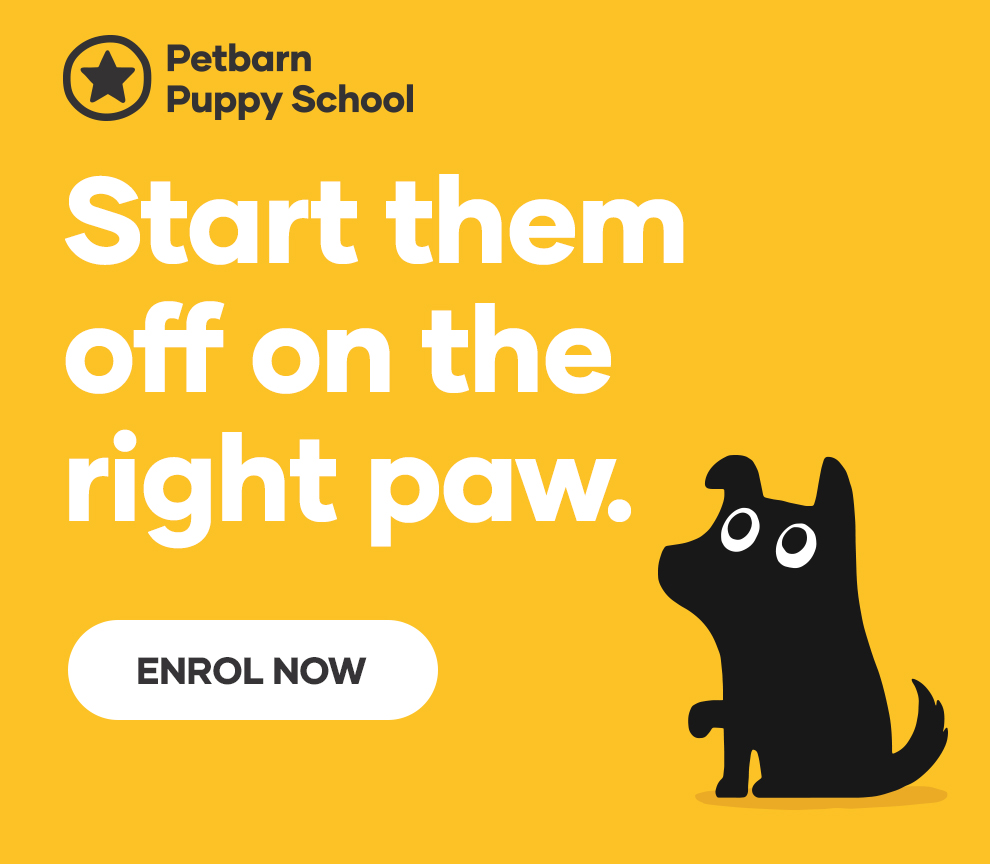 Exercising
When your puppy is vaccinated and ready to head out to the park, you'll definitely need to keep some dog poop bags on hand. It's also good to have a stash of these at home for cleaning your backyard and for any accidents while you're on your toilet training journey.
Store your poop bags in a handy bag dispenser which you can refill when it runs out.
Earth Rated Eco Dog Waste Bags Lavender 120 Pack
$16.99
Earth Rated Eco Dog Dispenser w Waste Bags Unscentd 15 Pack
$9.99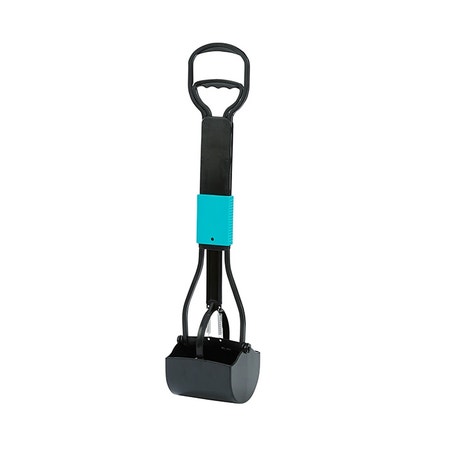 Freshco Dog Pooper Scooper Large
$36.99
Puppies need regular exercise to maintain their health. Once your Greencross Vet is happy that your puppy is well-developed enough to go on runs with you, equip them with a lead and harness that are designed for running.
EzyDog X-Link Dog Harness Black Small
$79.99
Flexi Classic Retractable Tape Dog Lead Black 8m Large
$91.99
Halti Dog Head Collar Black Size 2
$36.99
Our puppy checklist details some of the basics you need to have organised in time for your puppy's arrival. Once they come home, the next step is to enrol them in Puppy School where you and your puppy will be taught the basics of how to crate and toilet train, learn basic cues, and socialise with other puppies in a friendly and safe learning environment.
If you're in need of any more puppy essentials, head to your nearest Petbarn store where our friendly team members will be happy to give you any advice you need.
Petbarn's Puppy Checklist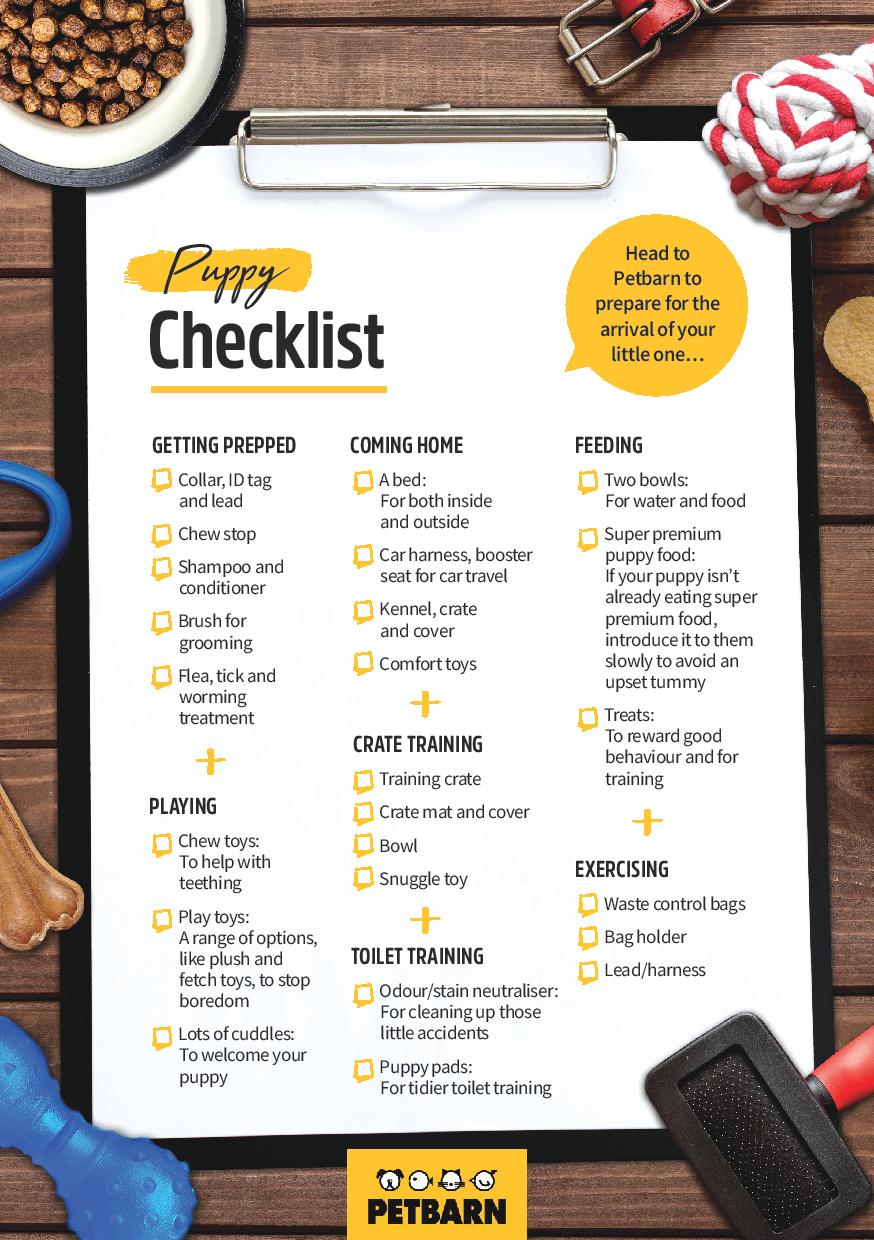 Getting Prepped
Collar, ID tag and lead
Chew stop
Shampoo and conditioner
Brush for grooming
Flea, tick and worming treatment
Playing
Chew toys: to help with teething
Play toys: a range of options like plush and fetch toys, to stop boredom
Lots of cuddles: to welcome your puppy
Coming Home
A bed: For both inside and outside
Car harness, booster seat for car travel
Kennel, crate and cover
Comfort toys
Crate Training
Training cate
Crate mat and cover
Bowl
Snuggle toy
Toilet Training
Odour/ stain neutralizer: for cleaning up those little accidents
Puppy pads: for tidier toilet training
Feeding
Two bowl: for water and food
Super premium puppy food: If your puppy isn't already eating super premium food, introduce it to them slowly to avoid an upset tummy
Treats: to reward good behaviour and for training
Exercising
Waste control bags
Bag holder
Lead/harness