Now that we're practising social distancing, it can be tricky to find the right balance between when to exercise outside or to stay safe inside. Have some fun by getting creative about ways you and your dog can develop a new fitness regime inside your home or in your backyard to keep both of your muscles, joints and brains active.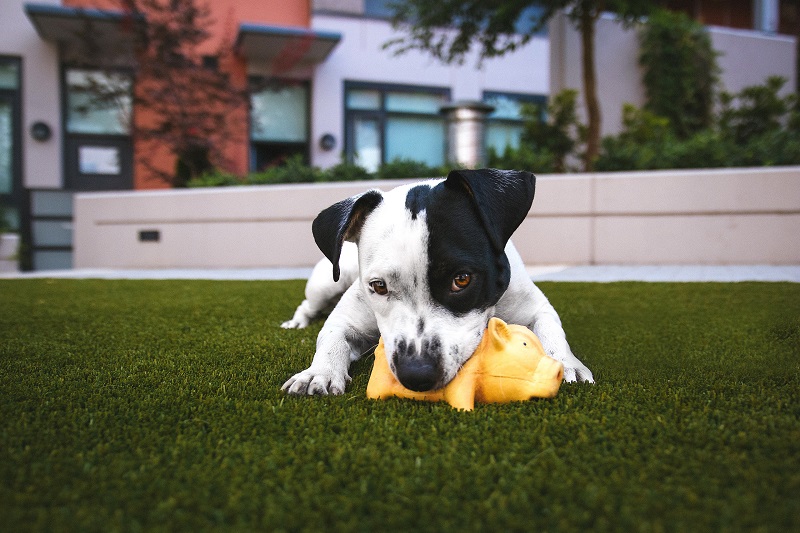 At Petbarn, we're here to help you and your pets adjust to these new circumstances, and we want to ensure that you have everything you need to keep them healthy and safe in case of a further quarantine. We're working closely with our suppliers to make sure that the products you need are available. You can learn more about how to check if your favourite items are in stock here and about the Zero Contact delivery options we've introduced to keep our customers and team members safe.
Here are some fun indoor activities to keep your dog fit and healthy during isolation!
Play fetch
Fetch is a classic game for a reason – most dogs love nothing more than running back and forth catching a ball to their heart's content. All you need to teach your dog to play fetch is to grab a ball or frisbee to throw and to clear out some space, whether it's down a hallway or in your backyard, and you're all set to give your dog a healthy workout. Just remember to clear away any breakable items first!
Create an obstacle course
Have you ever wondered if you and your dog have what it takes to master an agility course? Well now's your chance! You can easily transform your living room into a mentally and physically engaging obstacle course by just repurposing the furniture and other items you have in your house. For example, use a treat to lure your dog under tables and over chairs, zig zagging around cushions and more, for a fun indoor activity that can keep you and your family occupied for hours.
Dress up time
We'll admit this one might be more for your entertainment than for your dog, but as their pet parent you know their temperament best! If they're laid back and patient, they may love nothing more than to pose for some happy snaps and action shots of them showing off Petbarn's fashionable clothing range. We've got everything from trendy coats and cosy pyjamas to cute little socks and hats. Just make sure that they're comfortable throughout the process and the clothes are the right size for them.
Hide and seek
You can play hide and seek with your dog one of two ways. Entertain your kids and your dogs at the same time by having your dog sit and wait while you or your kids run off to hide somewhere else. When you're ready to be found, call your dog's name and let them seek you out. Alternatively, stimulate your dog's senses by hiding small, tasty treats around the house or garden and then let them sniff out these yummy rewards. Keep in mind that treats should only make up 10% of your dog's daily diet so play in moderation!
Rotate through a variety of toys
Dogs may be man's best friend but we're sure that some dogs consider their toys to be their best friends! Petbarn has all sorts of dog toys available for playtime with you, and for solo entertainment when you need time out.
Balls can keep a dog occupied for hours on end whether you're throwing it for them or they're rolling it around themselves.
Rope toys are great for a game of tug-of-war but make sure that you stop the game if your dog becomes too competitive and aggressive. Also, to minimise any damage to your dog's teeth, avoid any sudden pulling on the rope.
Interactive toys have proven that technology isn't just for humans anymore! Get your dog in on the gaming fun with toys you can control via a phone app or set them on automatic mode so they delight your dog by rolling around in unpredictable ways. You can also try automatic ball launches when you want to give your arm a rest!
Toys that squeak or crinkle will immediately grab your dog's attention and are a great option to throw into the mix.
Treat-dispensing toys like Kongs are a fun challenge for your pet that will teach them problem-solving skills.
The trick to keeping your dog delighted is to regularly rotate through their toys so they're excited to play with an old one they haven't seen in a while. The phrase "absence makes the heart grow fonder" is also true for your dog and their toys!
Staying inside doesn't mean that you and your dog should give up on exercising. It's important for your mental and physical health that you and your dog maintain an active lifestyle and find fun new ways to bond together indoors!