SavourLife Kangaroo Biscuits Dog Treat 500g
This product has been added to your cart
People who bought this also bought
SavourLife's all-natural, oven-baked Australian Beef Flavour Biscuits contain no artificial flavours, colours or preservatives. Our protein-packed biscuits are made from Australian ingredients including real Australian beef, eggs and whole Linseed. We use only the best natural ingredients for optimal health and nutrition, then we bake them to perfection, giving them a crunchy texture, which is great for promoting healthy teeth and gums. The addition of extra Linseed gives a natural boost of vital Omega 3&6 acids. Now with glucosamine. The perfect choice for a healthy and delicious treat for your dog.
50% of profits help rescue dogs. Australian Made and Owned; made with real Australian beef. Great for teeth and gums.
Stone-ground wheat, kangaroo, peanut butter, sugar, linseed, egg powder, apple puree, salt, oil, glucosamine, citric acid, white distilled vinegar, antioxidants

50% of Savourlife's profits help save rescue dogs
SavourLife is a family owned, Australian company inspired by a passion for dogs and a desire to make a difference.
They make natural, Australian made food and treats for dogs and donate 50% of their profits to pet rescue organisations,
helping them save and re-home abandoned dogs. In just over 8 years, SavourLife have donated over $4 million to more than 250 smaller
volunteer run rescue groups and supported the rehoming of over 35,000 dogs.
Every SavourLife product you buy helps contribute towards their mission of helping reduce the number of adoptable dogs euthanised
in Australia to ZERO. It's dog food that makes a difference!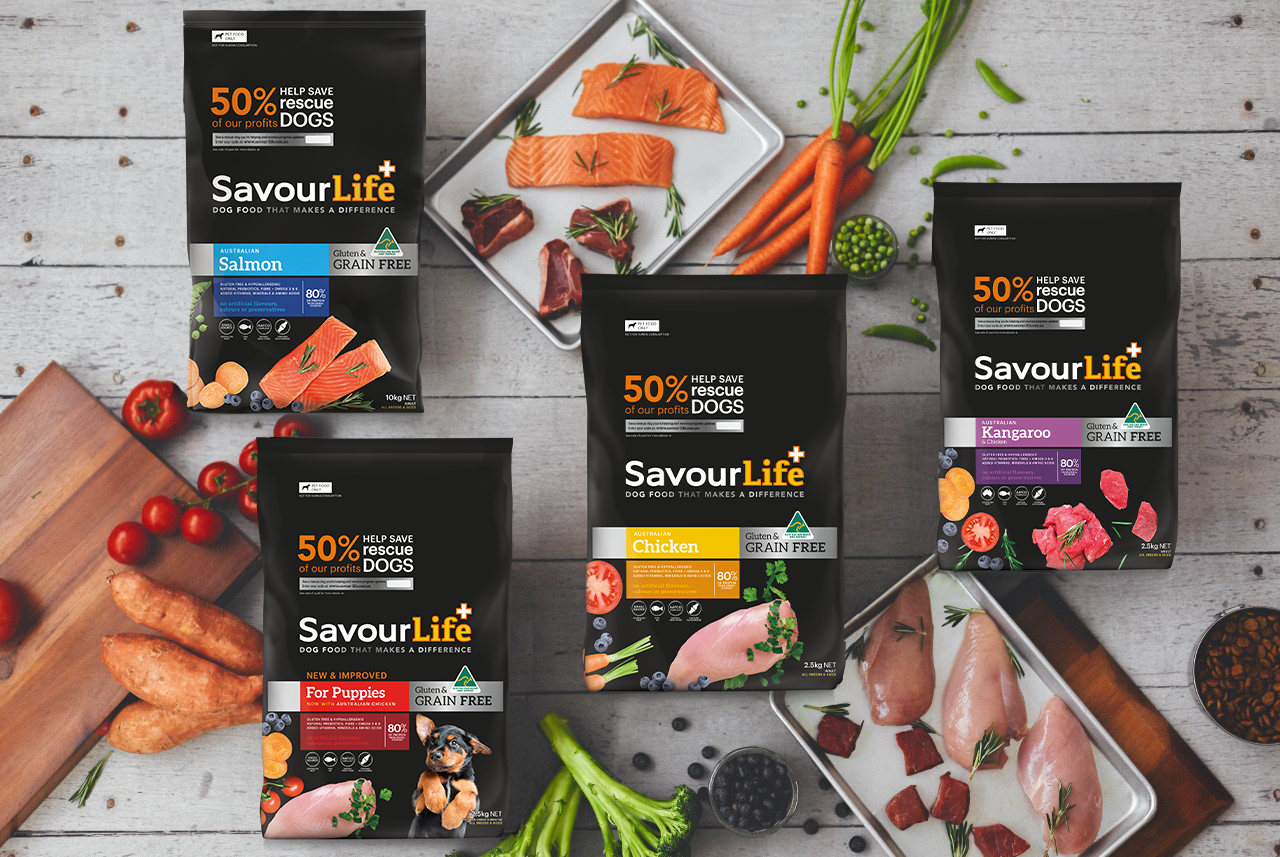 Why choose SavourLife?
SavourLife is proudly one of the few Australian-Made and Owned pet food companies so you can be assured that not only is your food made in Australia, it's also owned by an Australian company. SavourLife uses only natural ingredients to ensure your dog's entire well-being is catered for. Created by nature, not a laboratory technician, your best friend's food ingredients list reflects their natural dietary needs. It's an all-natural and holistically balanced food with no artificial flavours, colours or preservatives.
SavourLife has a number of food ranges to suit your dog; Grain Free, Ancient Grains, and Essentials with Veggies and Rice, all containing only Australian meat proteins. They've added fish oil in every pack for a natural boost of Omega 3&6. With specialised formulations for Adult & Puppy, Large Breed & Small Breed, they have something for every dog!
SavourLife also have a large range of treats including crunchy bikkies, meaty strips, training treats, dental bars, and other natural goodies to make every dog happy!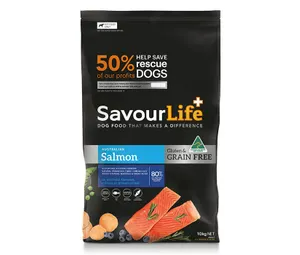 SavourLife Grain Free Salmon Adult Dog Food 10kg
$109.99

SavourLife Grain Free Kangaroo Adult Dog Food 10kg
$109.99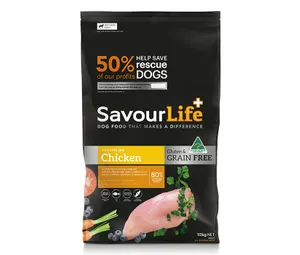 SavourLife Grain Free Chicken Adult Dog Food 10kg
$104.99

Savourlife Grain Free Chicken Puppy Food 10kg
$104.99
Additional info

| | |
| --- | --- |
| PPU Number Of Units | 5.000000 |
| PPU Unit | 100g |
| Product Category | Treats |
| Treat Type | Bakery |
| Advice Care | Store in a cool, dry place away from direct sunlight |
| Brand | SavourLife |
| Breed | All Breeds |
| Feeding Guide | PET FOOD ONLY. This product is intended as a dog treat only. It should not be served as a meal replacement and is intended for occassional or supplemental feeding. Ensure clean fresh water is always available for your dog. |
| Flavour | Kangaroo |
| Size | 500g |
| Life Stage | Adult, Puppy, Senior |
| Australia Made | Yes |
| Member Price | 12.99 |