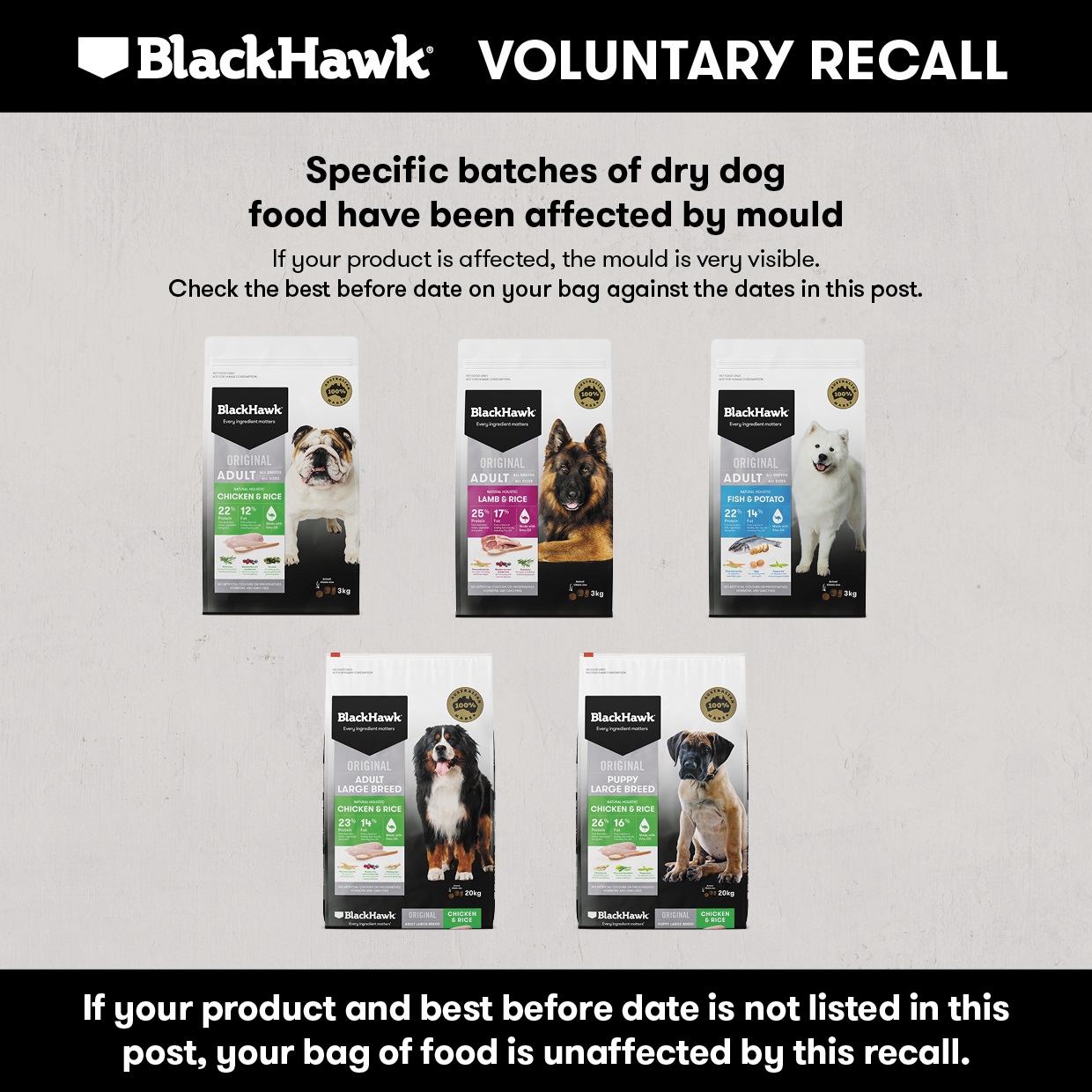 It has been brought to our attention that mould is present on a small range of Black Hawk Dog Food. The supplier of Black Hawk has issued a product recall for the affected product. If you are currently feeding any of the products listed below to your dog you should stop feeding it immediately as a precaution.
Please speak to store staff or your vet to find a suitable alternative. Please note that this recall only affects the batch codes listed. All other batches, even for the same products, are still safe for consumption. Click here to read more information from the supplier.
We have taken the proactive measure of immediately removing the affected products from all our stores and website until further notice. You can receive a full refund on the affected products by returning them to any of our stores.
If you have any concerns about the health of your pet please visit your local vet or contact Masterpet on 1300 654 279 or customer.service@masterpet.com.au.
Products affected
Updated as at 16/01/2019
Product
Best Before Date
BH311 Black Hawk Adult Chicken and Rice 3kg
BB 03/02/2021
BB 04/02/2021
BB 05/02/2021
BB 06/02/2021
BB 17/02/2021
BB 17/04/2021
BB 18/05/2021
BH102 Black Hawk Adult Chicken and Rice 10kg
BB 02/02/2021
BB 03/02/2021
BB 04/02/2021
BB 05/02/2021
BB 06/02/2021
BB 17/2/2021
BB 18/2/2021
BB 19/2/2021
BB 20/2/2021
BB 14/04/2021
BB 15/04/2021
BB 16/04/2021
BB 18/05/2021
BB 19/05/2021
BH204 Black Hawk Adult Chicken and Rice 20kg
BB 02/02/2021
BB 03/02/2021
BB 04/02/2021
BB 05/02/2021
BB 06/02/2021
BB 17/2/2021
BB 18/2/2021
BB 19/2/2021
BB 20/2/2021
BB 21/2/2021
BB 14/04/2021
BB 15/04/2021
BB 16/04/2021
BB 17/04/2021
BB 16/05/2021
BB 17/05/2021
BB 18/05/2021
BB 19/05/2021
BH310 Black Hawk Adult Lamb and Rice 3kg
BB 10/04/2021
BB 22/04/2021
BH101 Black Hawk Adult Lamb and Rice 10kg
BB 05/04/2021
BB 06/04/2021
BB 07/04/2021
BB 08/04/2021
BB 09/04/2021
BB 10/04/2021
BB 11/04/2021
BB 18/04/2021
BH205 Black Hawk Adult Lamb and Rice 20kg
BB 04/04/2021
BB 05/04/2021
BB 18/04/2021
BB 02/05/2021
Black Hawk Adult Large Breed Chicken and Rice 20kg
BB 03/03/2021
BB 04/03/2021
BB 01/04/2021
BB 26/04/2021
BB 27/04/2021
BB 28/04/2021
BB 23/05/2021
BB 24/05/2021
BB 25/05/2021
Black Hawk Puppy Large Breed Chicken and Rice 20kg
BB 13/02/2021
BB 14/02/2021
BB 15/02/2021
BB 04/06/2021
Black Hawk Adult Fish & Potato 20kg
BB 19/04/2021
BB 06/05/2021
BB 07/05/2021
BB 22/05/2021
BB 23/05/2021
Black Hawk Adult Fish & Potato 10kg
BB 21/04/2021
BB 07/05/2021
BB 22/05/2021
Black Hawk Adult Fish & Potato 3kg
BB 22/04/2021
BB 11/05/2021
BB 25/05/2021
BB 26/05/2021