Bringing home a new puppy is an exciting time! Here are some tips you'll need to consider if you want to help your new puppy settle in their new home.
Before you bring a puppy home
Before you bring your new puppy home, make sure you've ticked off all these essentials to be prepared:
Do you have all the things you need for your new puppy? From food and treats to bedding and clean-up, puppies require lots of care. Make sure you've ticked off every item on our puppy checklist.
Is your home safe for a puppy? Puppies are curious and love to explore the home, but everyday household items can be hazardous to a young pet.  Check out our tips for puppy-proofing the home.
Is your home set up for a puppy? Your puppy should have a dedicated area for their with a bed and toys, and a place in the home for their food and water bowls.
Do you understand how to introduce your puppy to your other pets?
Naming your puppy
If you're adopting a puppy from a shelter, they may already come with a name. If your puppy doesn't have one yet, we recommend a name with one or two syllables as it can help the process of training. It's also advisable to steer clear of names that sound similar to commands for your puppy such as 'Beau', which can easily be confused with the word 'No'. We recommend keeping your pet's name simple, but we know the allure of giving your pet a unique name. In the first days of having a pet, you'll be able to get your puppy used to their name and other command words that you'll use frequently.
Your puppy's first night at home
The big day has arrived. It's an important day for you, but an even more important day for your new pet. Your puppy has arrived at their new home and while they will soon get to grips with their new environment, it may take them some time to settle, particularly come night time. It will be their first night away from their mother and siblings, after all. As much as your new pet whimpers, try to avoid bringing them into your bed as this can be the start of a hard-to-break habit. Get your pet a snuggly toy to keep them company, but remember you might want to keep it for an occasion when they're particularly unsettled. Puppies getting used to their new surroundings often like the security and sanctuary of a crate, so you should consider this as an option for them.
Creating a routine
There'll be lots happening in your puppy's first few days and it's highly likely that they'll feel overwhelmed. That's why we recommend having a routine planned before you bring your puppy home. Map out the key times you'll feed them every morning and, though you must wait until they have completed their vaccinations, get an idea of the time you'll walk them each day. We recommend two short walks per day. That said, be mindful of their growing bones and joints and seek veterinary advice for the amount of exercise your puppy will need.
Training: Enrolling in puppy school
It's very important for all puppies aged 8-16 weeks to attend Puppy School as this is their crucial development phase. Bond with your puppy through our 4-5 week course where you will learn how to communicate with your puppy and how to interpret their body language. For your puppy, Petbarn's puppy school program is a chance for them to socialise with fellow puppies and humans, and learn essentials such as toilet training, becoming desensitised to loud noises and how to follow cues.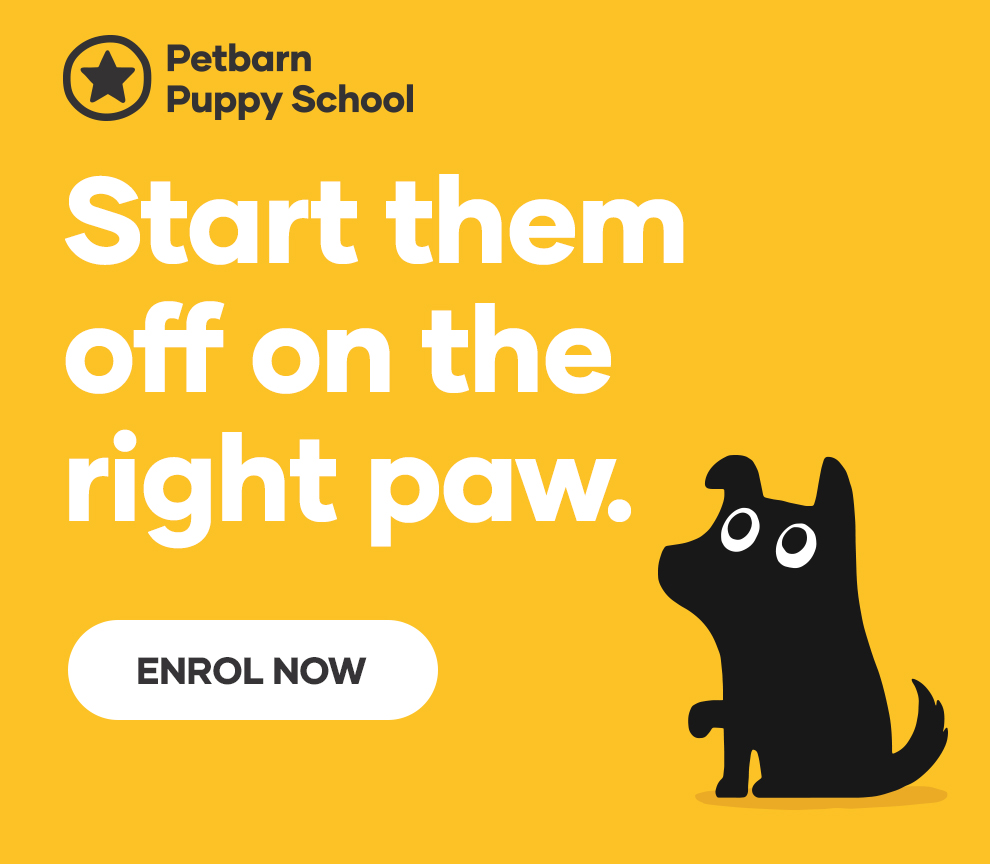 Leaving your puppy home alone
You'll need to allocate time to getting your puppy settled in. At some point, they'll spend time alone, but it's good to start this process gradually. Even when you are home, leave your puppy alone for very short periods of time so you can monitor the likelihood of separation anxiety.
Now that your puppy has arrived home and you've done your best to make them feel welcome, it's time to savour all the enjoyable moments you'll have with them! If you're ever in need of more puppy advice and essentials, come into your local Petbarn where our friendly and experienced team members will help you out.