There are so many toys available, with many great benefits to each of them. How do you know which are the best puppy toys for your pet?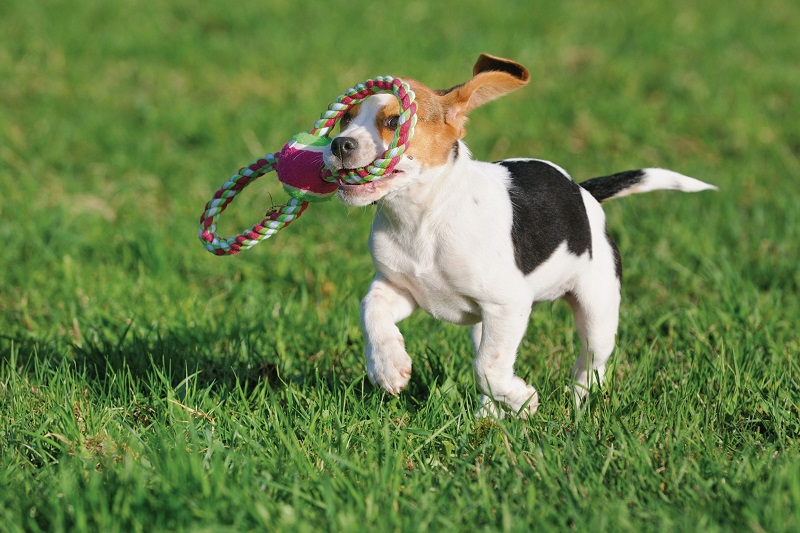 All puppies love playtime, so having the best puppy toys is a must. But did you know that puppy toys can also be used to train your pet, help them feel secure, and strengthen your bond in addition to being great sources of entertainment? Looking at your puppy's toys as helpful tools for learning and more will help you decide which ones are best for your new family member. Remember that the trick to keeping your puppy entertained is to provide a number of toys that you can rotate regularly. Read on for our guide on the best puppy toys for different occasions.
Best puppy play toys
Fetch and chase toys are a perennial classic because they're fun for you and your puppy, helping the both of you grow closer each time you play. Suitable balls and frisbees for puppies are made of softer materials that are safer on your puppy's teeth. If your puppy is a speedster who loves to run, make playtime even more fun with a launcher so your throws really go the distance.
Tug toys, like those made of rope, are another way you can interact with your puppy. When you're busy your puppy can use these as a chew toy. If your puppy is going through their teething process, check out our article on how to find the best chew toys for puppies. Many of these also have dental benefits for your puppy!
Best puppy training toys
In some cases puppies show little or no interest in tasty treats, and this can be tricky when you're teaching your pet their first lessons and they don't respond to food as a reward. In this case, a toy is a fantastic reward substitute as they may respond better to this type of stimulus. In this case, find a toy that your puppy absolutely loves and will do anything to get, and then use it as your training tool. Squeaky toys, Chuckit! balls, tug ropes or a favourite stuffed animal are all great examples for this purpose.
Best toys for puppies home alone
You may be wondering what the best puppy toys to keep them busy while you're at work are. Well, it's all about variety! Regularly switch out the toys your puppy has access to so that they all seem fun and new when they show up again.
A puppy that has recently left the litter or isn't coping too well with being left alone, will find comfort in a snuggle toy. While these are typically made of reinforced materials, make sure your puppy is not at the peak of their chewing phase otherwise they may make quick work of these cuddly toys. Some soft plush toys will make a surprising squeak or crinkle noise when played with which will keep your puppy endlessly entertained.
If you have an outdoor puppy who loves to dig in the dirt, offer them another option to your garden bed. Provide your puppy with a sand pit made from a giant plastic shell and encourage your puppy to play in there rather than the garden. Hide dry food treats and toys in the sand pit to allow your puppy to dig and find them as a reward for digging in the correct area. On hot days when you're at home to supervise, these shells can double as a paddling pool.
Best interactive puppy toys
Your playful little puppy will be looking for ways to entertain themselves and an interactive puppy toy is a brilliant way to keep them busy, especially if you aren't at home. A toy that incorporates food or treats and lets them discover what's inside, like a puppy Kong toy, will hold your pet's attention for hours and provide a mental challenge for them. These toys are also a great way to stimulate their senses and develop problem-solving skills.
Keep things interesting and fun for your puppy by having a box of toys that you can rotate every few days. Changing things up will ensure they don't become bored and turn their attention to chewing on items they shouldn't. Check out our wide range of brilliant puppy toys online and at your local Petbarn store today.