Understanding what's the best food to feed your puppy plays an important part in helping them grow into a happy and healthy dog. Your puppy needs the right balance of vitamins and minerals to help them develop mentally and physically. Here's our guide to making the best food choices for your new family member.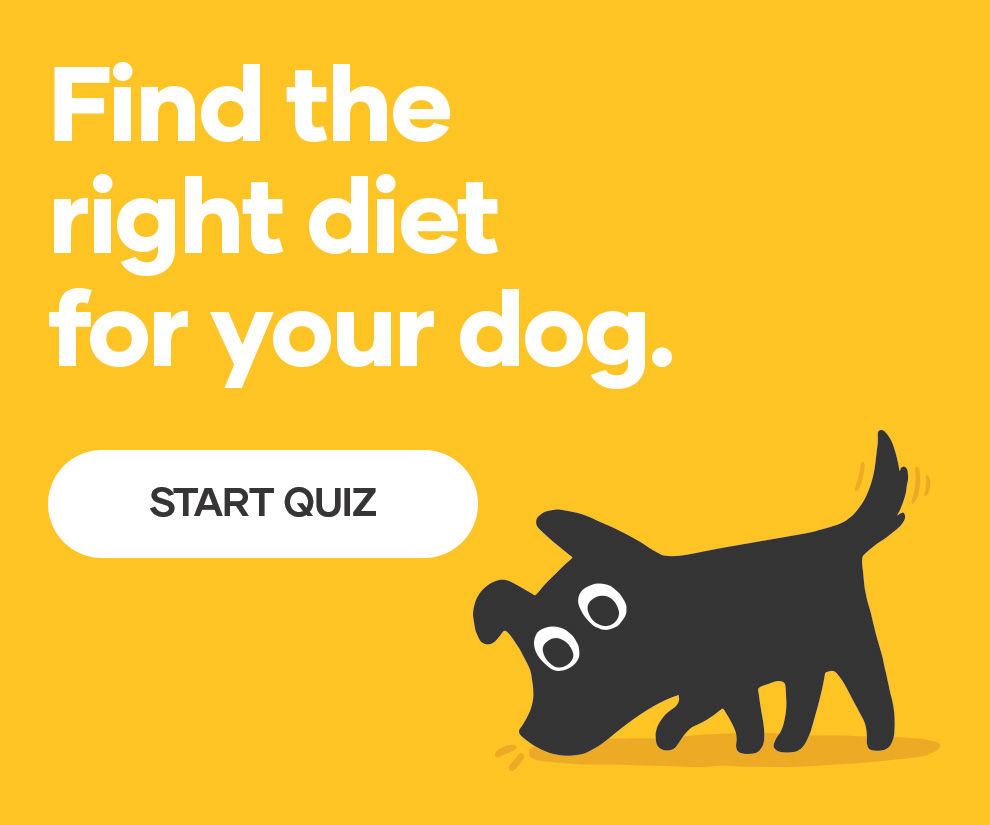 What are the most important nutrients for my puppy?
Providing your dog with a nutritious diet is important at all stages, but it's essential during the early years of a puppy's life. Puppies grow very quickly – their growth in the space of a year or two is comparable with how much a 15 year old human has grown.
Your puppy needs specially formulated puppy food that contains a high percentage of proteins, fats and carbohydrates compared to adult dog foods. This services their need for a nutritionally complete and balanced diet while they are growing fast and, at the same time, it lays the foundation for a long and healthy life.
Nutrient-rich puppy foods contain high levels of docosahexaenoic acid (commonly known as DHA), which is an omega-3 fatty acid. Puppies with high levels of DHA in their diet benefit from enhanced brain, muscle and vision development. In fact, the link between a DHA-rich diet and smarter, more trainable puppies has been scientifically proven.
What puppy factors should I consider?
There are a number of things to consider when deciding what to feed your puppy to give them the best start in life. When choosing the best food for your puppy, take into account the following factors and try our Food Finder Tool for some recommendations on the best food for your puppy:
The age of your puppy – look for a food made specifically for puppies on the packaging
The breed of your puppy – different breeds and sizes have different nutritional needs
How active your puppy is
If your puppy is overweight, a healthy weight or underweight
What types of puppy food are there?
After understanding your puppy's age, breed, activity and weight, look for a food that matches their needs. Puppy food comes in a large variety of options that include:
Tip: Do not feed your puppy leftovers from your table as this may cause an upset stomach and encourage fussy eating in your puppy.
Wet or dry puppy food?
You don't have to choose between them as mixing wet and dry foods can give your puppy the best of both, and provide them with optimum health benefits. The mix of textures and aromas might even make a nice treat! We recommend that you mix them both in the same bowl and try to ensure that there is more dry food than wet food because this is better for your puppy's teeth.
Remember to take into consideration the total amount of food that they are eating in a day. Wet puppy food (or raw meats) should not be in addition to the recommended daily feeding amounts on the dry puppy food bag, but should replace a portion of the dry food.
How much and how often should I feed my puppy?
Though it's tempting to give your puppy lots of treats, limiting their food intake will serve them well in the long run. Remember that their tummies are just becoming accustomed to new things, so take care not to overwhelm them with too much food.
Our super premium puppy food range includes feeding instructions that will guide you as to how much to feed your pet on a daily basis. Your puppy's weight will determine the right quantity of food they need to keep them healthy and strong as they grow. Also remember that they won't cope well with being fed all in one go. It's much better to spread their recommended daily food intake over a couple of meals. Here's our guide for how often to feed your puppy:
When to feed your puppy:
Age
Frequency
Small breed puppies from weaning up to 16 weeks
3 to 5 times daily
Other puppy breeds from weaning up to 16 weeks
3 to 4 times daily
After 16 weeks up to adult age
2 to 3 times daily
How should I switch my puppy to a new food?
Don't change your puppy's food when you first welcome them to their new home. Moving house is very stressful for a puppy and can affect their digestive system. Keeping them on the diet they are accustomed to will reduce their chances of stomach upsets or diarrhoea.
Once you are ready to change your puppy to a new food, it is best to do so bit by bit over a period of fourteen days. This applies to changing to a new food brand or even a different flavour in the same brand, and is also important to remember when transitioning from puppy to adult dog food. Puppies have very sensitive stomachs and so slowly introducing the new food allows your puppy to get used to it and prevents them from experiencing stomach upsets and runny stools.
To transition your puppy to a different food, gradually introduce the new food by mixing it into their existing food using the following schedule: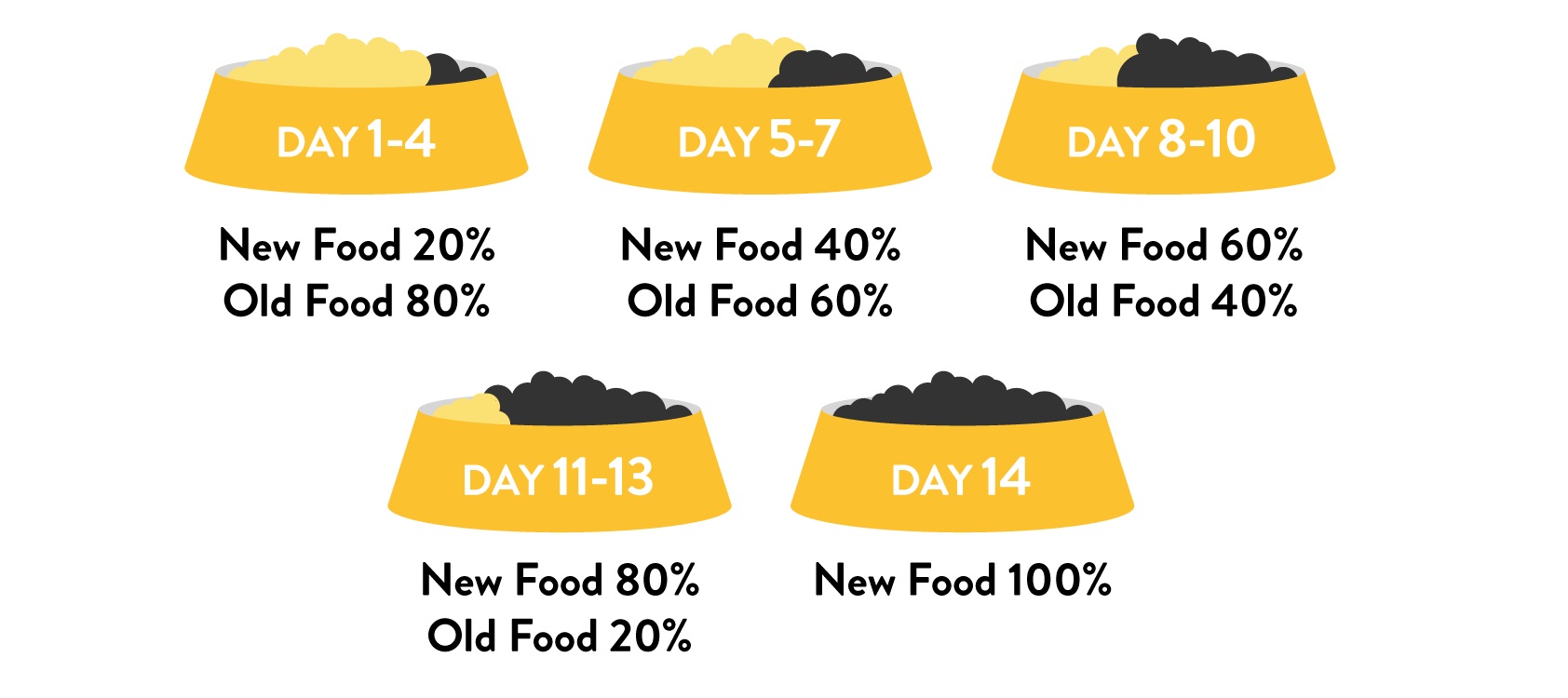 If your puppy does experience any minor digestive upsets (runny stools, vomiting), the transition should be paused at that stage until this has settled.
The best food to feed your puppy
Petbarn highly recommends that you feed your puppy super premium food as this has many benefits including being scientifically formulated to provide your pet with the right balance of nutrition. We stock an extensive range of super premium food, including ADVANCE which is scientifically formulated for Australian conditions, that suits dogs of all life stages and breeds – providing additional health benefits for your dog.
Try our Food Finder tool or visit your local Petbarn store where our team members will be happy to help you choose the best puppy food for you.