The seven things to plan before bringing your new kitten home.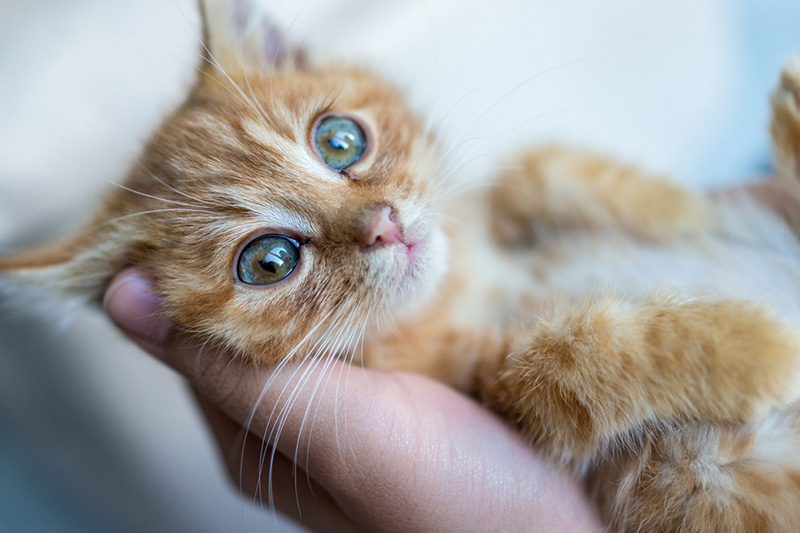 When you bring home a little kitten, it can be an overwhelming experience for them. Here are seven simple things you can do to make their transition into their new home smooth and welcoming.
1. Create a safety zone
While your house might feel safe and familiar to you, to a kitten it's a whole new confusing world. Start by limiting their space to a small area, such as one room. Keep them separated from your other pets until they're entirely comfortable in their new home.
2. Get set up
As soon as they get home, make sure they have two litter trays with kitty litter in clear sight and, placed away from the trays, water and food bowls. Some kittens prefer the choice of two trays. Cats are very territorial so, even if you have other cats, your new kitten will need their own litter box and bowls. They should also have a scratching post, and somewhere safe they can retreat to if they're feeling nervous. Special pheromones are available, such as Feliway, to bring calm and tranquillity to a nervous kitten.
3. Choose a cosy bed
Choose a bed for your kitten that's nice and comfy and can easily be washed. Make sure you position it away from drafts and away from the litter tray. Your kitten may feel lonely in the first few nights away from their mother, so ensure they have a cosy blanket for them to snuggle into. Sometimes, providing a cardboard box will allow your kitten to snuggle into their new bed.
4. Kitten-proof your home
Just like you might prepare a house for a new baby, it's also good to make your home kitten proof before they arrive. Things to remember include covering up open fireplaces with chimneys, closing windows, hiding electrical cables, removing medications, chemicals, hair elastics and threads. Keep in mind that some plants can be toxic for cats, the most serious being lilies. Store objects that might topple off shelves in cupboards and pack away anything with strings, such as spools of cotton or dental floss.
5. Don't skip play time
It's really important to bond with your kitten in these first few days and play is a fantastic way to do this. Be sure to have some safe kitten-friendly toys on hand. Talk to your kitten and pat them gently so they get to know your voice and touch.
6. Make their nutrition a priority
If possible, find out what they were eating at their last home and, if suitable, continue feeding them this food. If you do want to change their food, be sure to do so gradually, introducing their new diet over a 10 day to 14 day period. If you need advice on choosing the right food for your kitten, be sure to speak to your local Greencross Vets or Petbarn team member. Also make sure your kitten always has access to clean fresh water.
7. Have a health plan organised
Before your kitten comes home, you should find out the location of the closest Greencross Vets. This is helpful for their routine check-ups as well as any emergencies. Your vet will also be able to answer any of your questions on kitten care vaccinations, desexing, as well as flea, tick and worm prevention.
For advice on suitable food, bedding, toys and other accessories for your kitten, speak to one of our friendly Petbarn team members in-store.