Ah, the KONG Classic – with its unpredictable bounce and hidey-hole for treats, it's no wonder why a KONG might be your dog's favourite toy. When used effectively, KONGs can offer hours of enrichment by helping satisfy dogs' instinctual needs to chew. Here are our 5 top tips to help you get the most out of your dog's favourite toy!
1. Try different recipes for variety
KONGs are perfect for stuffing with different recipes so your pooch can enjoy their favourite toy with a different twist each time. Give your pooch variety and mix it up with sweet or savoury recipes.
Oatmeal Cookie Dough: Mix all the following ingredients together and stuff into a KONG. Freeze for a longer-lasting challenge.
Peanut Butter
Rolled Oats
Applesauce
Bananas
KONG Classic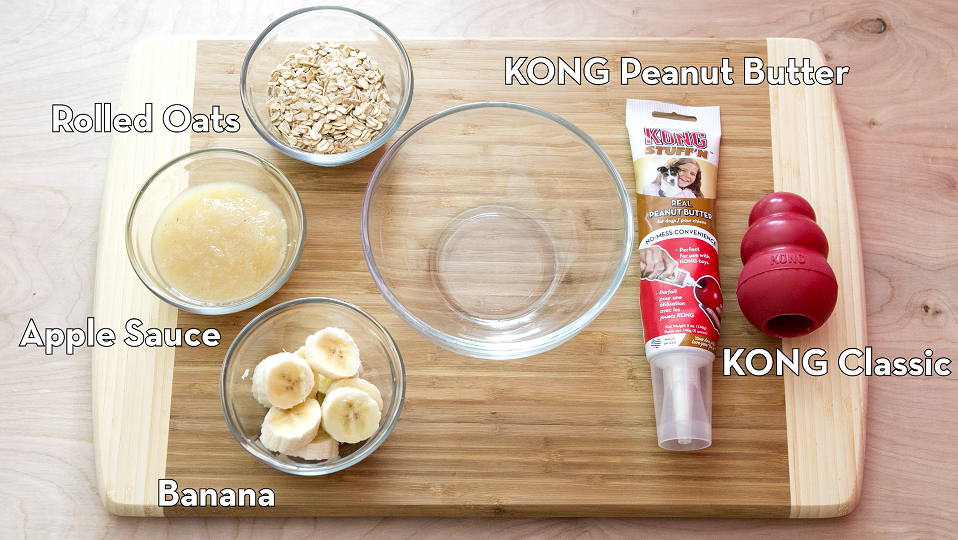 Fido's Farmhouse Feast: Mix all the following ingredients together in a bowl. Split the mixture between multiple KONGs and freeze.
4-5 whole carrots
1 cup of pumpkin puree
1/2 cup unsweetened dried cranberries
1 cup applesauce
1 cup baby spinach
Peanut Butter
KONG Classic
Pup-Permint: Mix all the following ingredients together in a bowl. Split the mixture between KONGs and freeze for a greater challenge.
1 cup plain yogurt
1/4 cup chopped mint
1/4 cup chopped parsley
1/2 cup diced apples
KONG Classic
Peanut Butter
If you're looking for a super quick and easy treat to stuff a KONG with, try a small amount of kibble with peanut butter, or KONG treats which are baked especially to fit into KONG toys.
2. Use different stuffing levels to up the challenge
For dogs new to KONG, set them up for an easy win by stuffing the KONG loosely with their favourite treats. Be sure the food is small enough that it will easily fall out as the dog plays. When KONGs are loosely stuffed, dogs can hear the treats inside calling to them as they move it. Clever dogs will figure out the best techniques to extract loosely-packed goodies.
When your pup starts to make quick work of their KONG, it's time to up your game. Make KONG more challenging—and long-lasting—by stuffing the toy with a mixture of wet and dry foods. The variety of textures keeps things interesting, as each bite is differently delicious. It helps to alternate wet and dry in layers, like making a puppy parfait.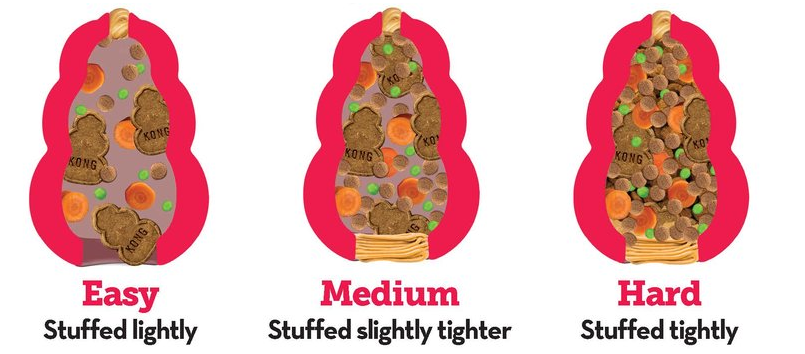 3. Freeze a KONG for a summer treat
Stuff a KONG and put it in the freezer for a delicious, frozen, summer treat that can keep your dog cool on hot days! Frozen KONGs can offer an extra level of challenge that encourages problem-solving and mental exercise that can keep your dog entertained for hours on end. Freezing a KONG can also slow down how fast they get through the treat, and help with digestion.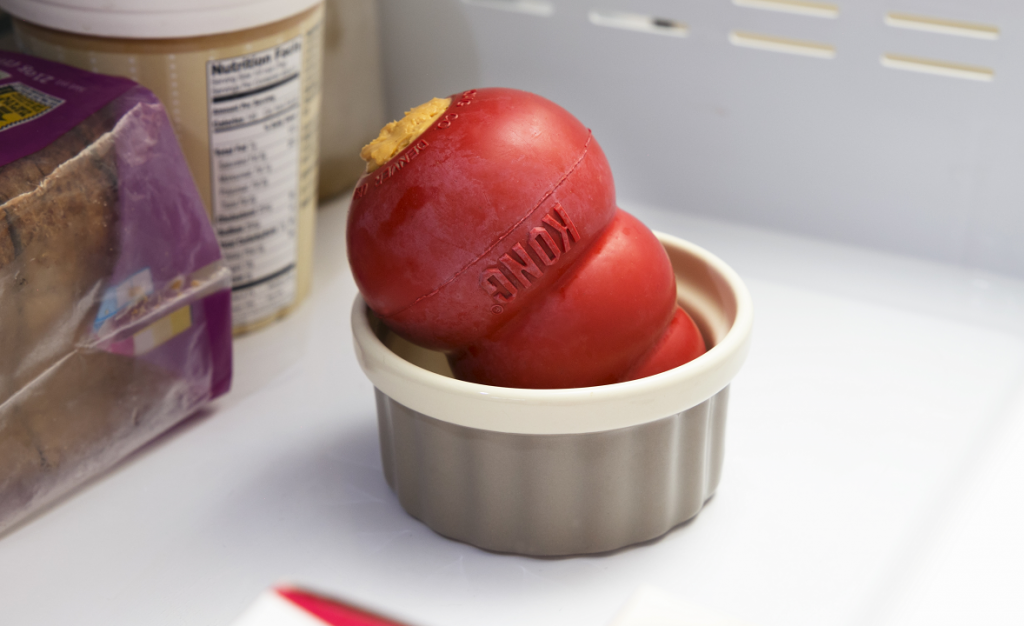 4. Use 3 KONGs
KONGs offer enrichment by helping satisfy a dog's instinctual need to chew. By stuffing the toy with treats like peanut butter and kibble the challenge is extended, offering up to hours of mental enrichment. Make sure your dog always has a KONG ready to go by ensuring you have 3 KONGs available at home
Play today: you know the drill—give your dog a stuffed KONG at his to keep him occupied, quiet and provide hours of enrichment.
Freeze for later: stuff a separate KONG and stick it in the freezer. Frozen KONGs are a greater challenge for your pup and will keep him occupied longer.
Wash for tomorrow: KONGs are top-rack dishwasher safe, so when your dog has emptied his, you can pop it in the dishwasher and save yourself some time during this busy season.
5. Clean KONGs after every use
Cleaning your KONG after every use is an important part of keeping your pooch safe and healthy. The snowman KONG shape that makes a great puzzle for dogs can also become a challenge to clean. Luckily, KONG Classic dog toys are top-rack dishwasher safe and can be washed with the rest of your dishes. You can still use normal dishwasher detergent while washing KONG rubber toys. Alternatively, you can soak the KONG in hot, soapy water to help loosen any leftovers, and use a bottle brush or old toothbrush to help scrub and remove any stubborn bits stuck inside. Rinse the KONG well and let it dry.