Where are the best places in Australia to take your dog?
We all know that there's nothing quite like getting out and about with your furry friends. That's why Petbarn decided to map out Australia's very best dog-friendly beaches, parks and cafes for you.
So whether you and your pet like to hike, swim, toss a frisbee or dine out with a doggacino, we're confident we can help point you in the right direction!
Where can I take my dog in New South Wales?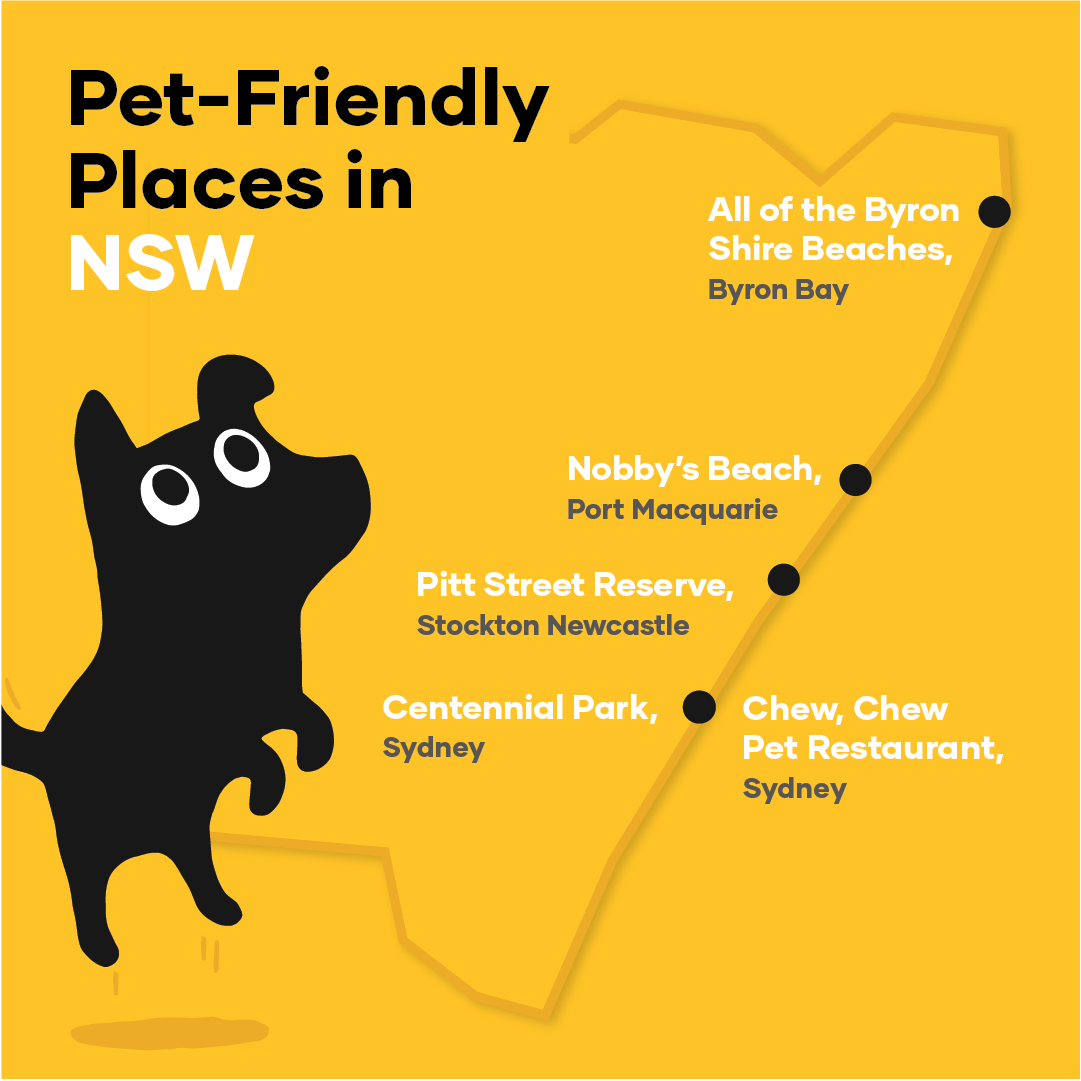 Dog-friendly beaches
Take a dip at Byron Bay, where dogs can swim freely and there's plenty of open access dog exercise spots. Because dogs are man's best… workout buddy, right?
Why not get off the leash in breathtaking Nobby's Beach, Port Macquarie? There's nothing like that feeling of sand between your toes…or paws!
Dog-friendly parks
Enjoy the beautiful parklands of Centennial Park. It's Sydney's largest dog-friendly park with popular off-leash locations like Sandstone Ridge and Federation Valley. Who said you can't raise pets in the city?
Take a stroll down the river of Pitt St Reserve in Stockton, Newcastle, right on the Hunter River. So much to explore, sniff and discover.
Dog-friendly cafes
Do you and your pooch consider yourselves foodies? Why not try Chew Chew Pet Restaurant in Wollstonecraft, Sydney. They specialise in creating homemade organic and nutritious meals. That's food worth wagging about!
Where are the best dog-friendly spots in Queensland?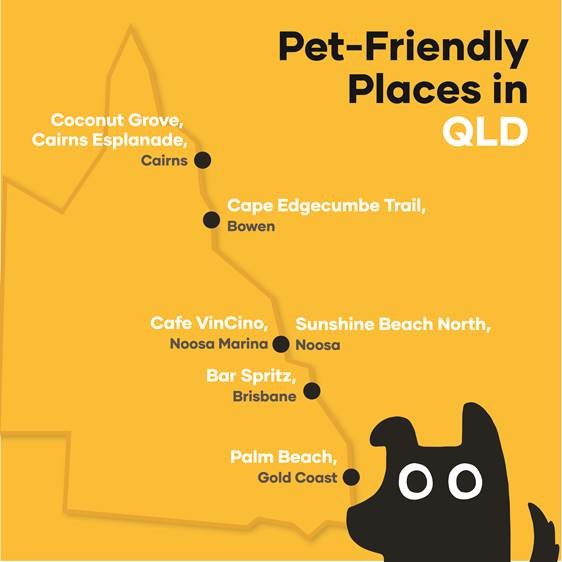 Dog-friendly beaches
Set your pooch free at Sunshine Beach North in Noosa. You can also enjoy wonderful exercise areas where pooches can play, jump and catch a frisbee.
It's doggy paradise at Palm Beach.  With a pooch-approved area stretching from Palm Beach Parklands, all the way to Currumbin Creek, you'll never get bored exploring with your best mate!
Dog-friendly parks
Take in the beauty of Coconut Grove, Cairns. Explore the designated off-leash area stretching to the very north of the Cairns Esplanade.
Go for walk at the Cape Edgecumbe Trail in Bowen, top of the Whitsundays. You can even make it a holiday. From campsites, to luxury beach stays that are all pet-friendly.
Dog-friendly cafes
Dine out at Cafe VinCino at the Noosa Marina. It's a pet-friendly cafe located right on the marina. A great day out for the whole family, especially the four-legged members!
Enjoy breathtaking views with your pooch at Brisbane's Bar Spritz at Kangaroo Point.  Overlook the river and watch the sunset with you four-legged friend. Who's shouting first?
Where can I take my dog out in Victoria?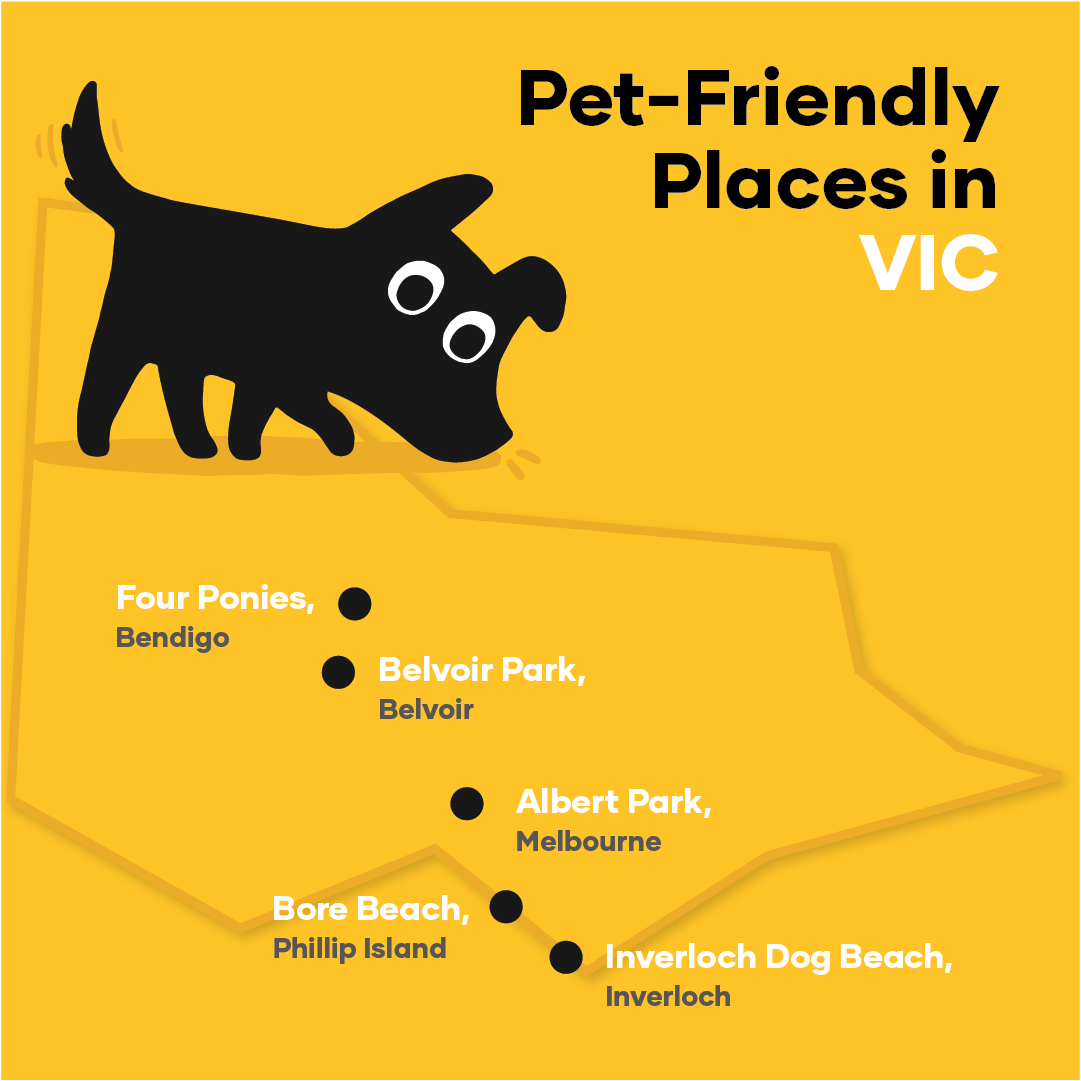 Dog-friendly beaches
Go for a dip at the Inverloch Dog Beach, in Inverloch. Then take a stroll to the markets! The whole town is dog-friendly, so it's the perfect day out for you and your pooch.
Where can you work out with your pet? Here, that's where! Enjoy a nice long run and maybe some doggy paddling at Bore Beach in Phillip Island.
Dog-friendly parks
There's so much to discover at Belvoir Park in Belvoir. Your pet can even freshen up at the water fountain, then shake it off. Bins, bags and shaded seating provided!
Have you heard of the RSPCA Million Paws Walk that happens every May in Albert Park? It's the doggy social event of the year. And it's pooch-friendly all year round!
Dog-friendly cafes
If you and your mate consider yourselves a bit more sophisticated than the rest of the pups at the park, try pet-friendly Four Ponies in Bendigo. Right across the road from beautiful Rosalind Park and Conservatory!
Where are the top dog-friendly places near me in the Australian Capital Territory?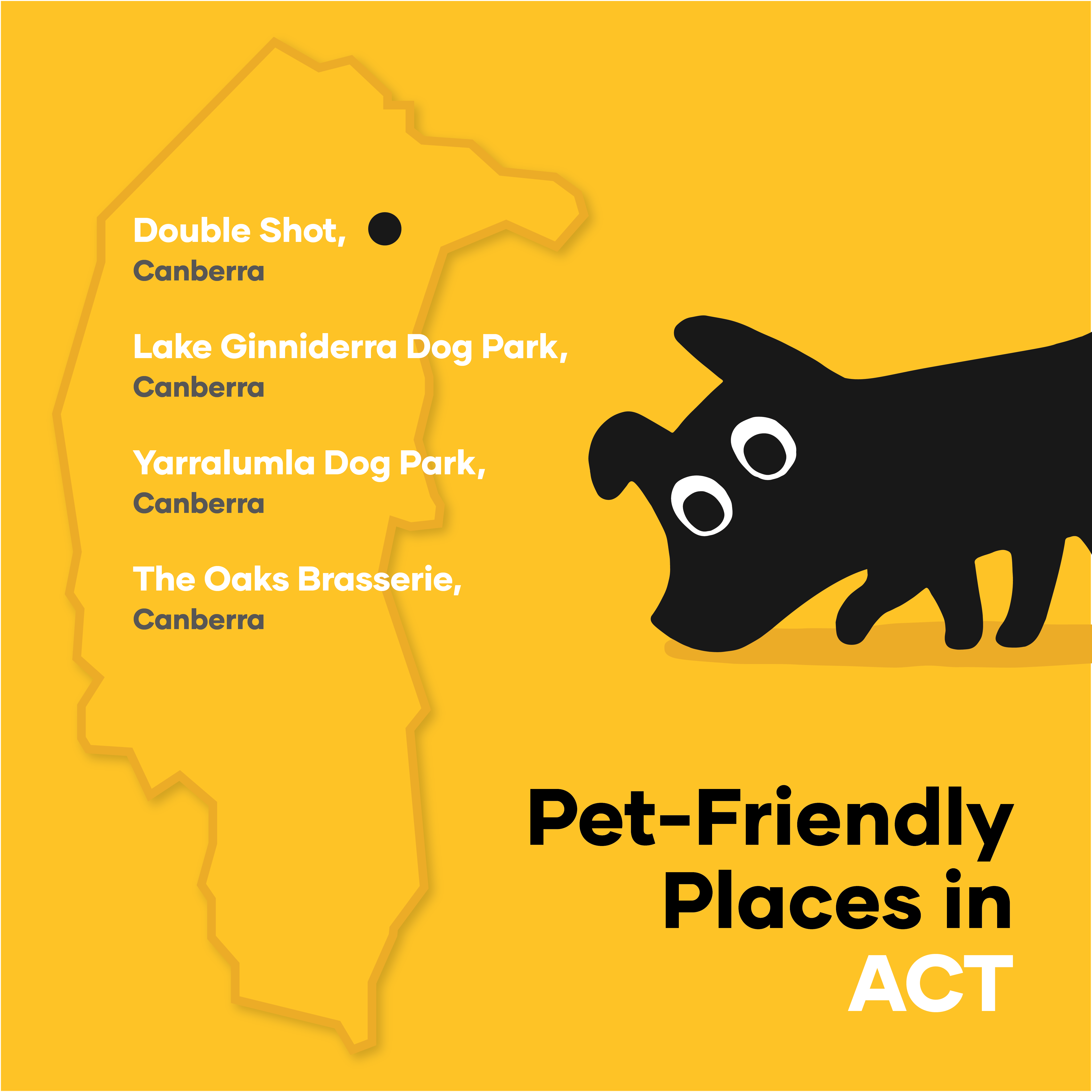 Dog-friendly parks
Searching for a pet-friendly spot to run in Canberra? Run free at Lake Ginninderra Dog Park! A large fenced park where your pooch can explore, play and even make some new friends.
Why not go for a doggy paddle at the Yarralumla Dog Park, with a dog swimming beach on Lake Burley Griffin and a great dog-friendly walk nearby?
Dog-friendly cafes
Dine-out in style at Double Shot, in Canberra. Sit back, roll over, and enjoy the great outdoor dining area with astroturf. It's the perfect day out with your best pet friend!
Your dog will be barking orders at the Oaks Brasserie, with a menu designed just for them. Your pooch can enjoy a couple of chipolatas in the specially maintained dog garden. Sounds fancy, doesn't it?
Where are the best dog-friendly places in Tasmania?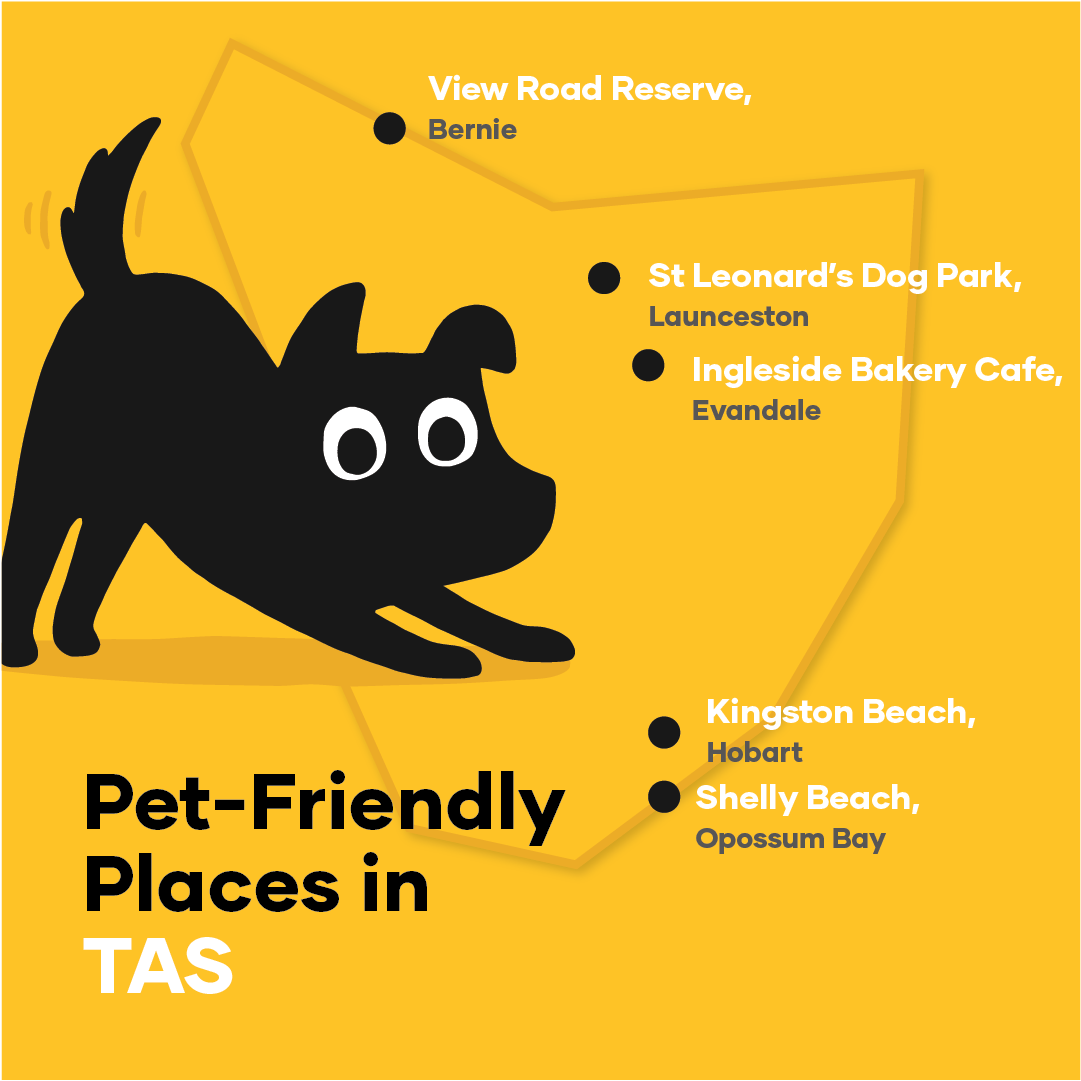 Dog-friendly beaches
Catch some waves at dog-friendly Kingston Beach in Hobart. It's located on the Derwent River, so there's so much to see, leash free!
Looking for a pet-friendly camping spot is Tassie? Enjoy some off-leash fun at the beautiful Shelly Beach in Opossum Bay. Tasmania offers plenty of camping and dog-friendly locations, so why not make a weekend of it?
Dog-friendly parks
Take a walk through View Road Reserve's grassland and walking tracks, taking advantage of the outdoor exercise equipment and their off-leash fenced dog park.
Throw a frisbee and run free at St Leonard's Dog Park in Launceston. They might even make a furry friend, or two, or three!
Dog-friendly cafes
The Ingleside Bakery Cafe in Evandale is amazing for humans. And did we mention they have delicious dog food on the menu? That's right. You can finally enjoy brunch without your pooch trying to steal your bacon!
Where can I take my dog in the Northern Territory?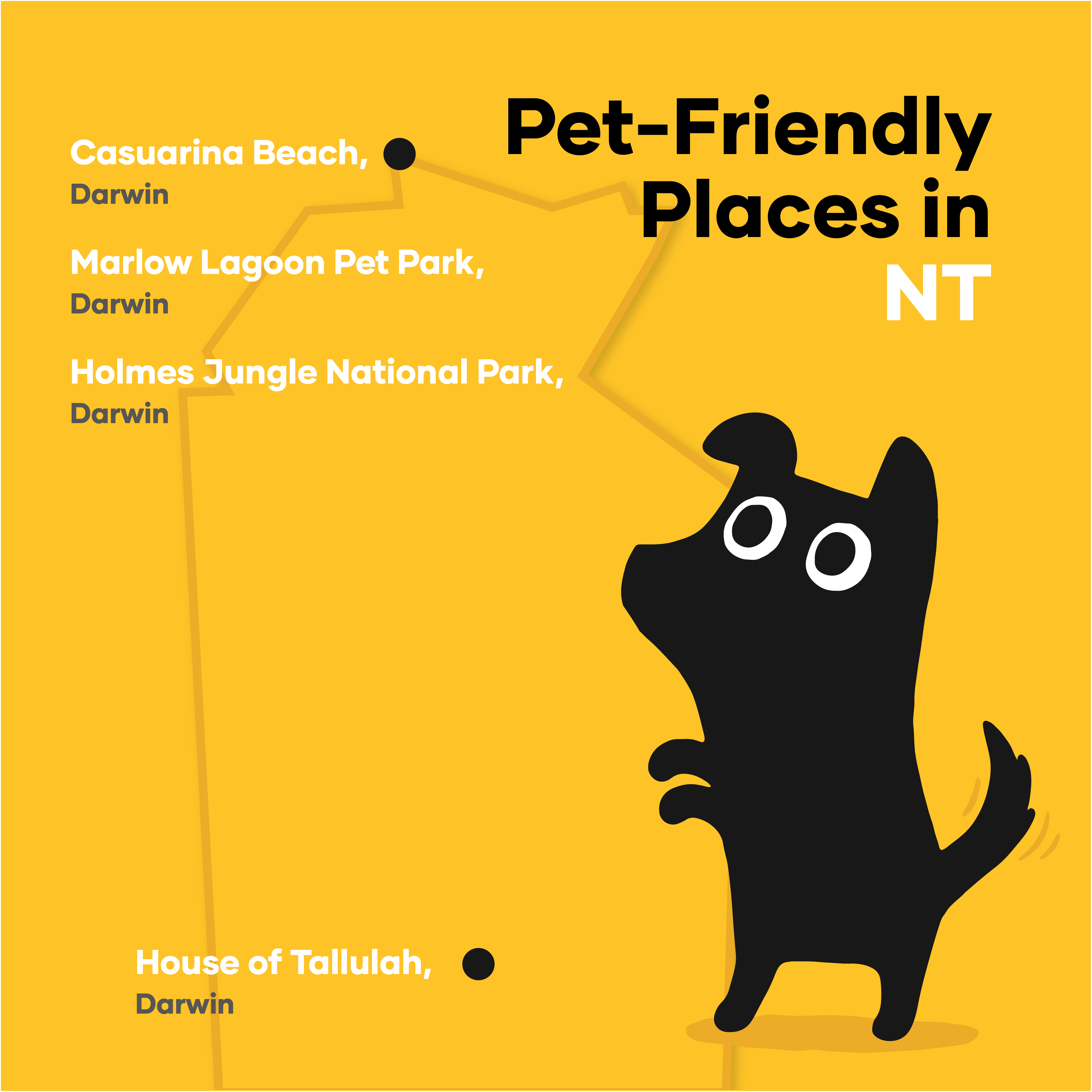 Dog-friendly beaches
Go for a splash with your bestie at Casuarina Beach in Darwin. There are dog-friendly areas between Rapid Creek and Dripstone Cliffs, so start exploring now!
Dog-friendly parks
Your dog will be jumping for joy at the Marlow Lagoon Pet Park in Darwin. The park contains eight obstacle courses to explore and play in. Results may vary, but most pets sleep better that night after a day of intense exercise!
There's so much to explore in the Holmes Jungle Nature Park. It's one of the few remaining monsoon forests in Oz, so bring your camera to capture the unforgettable sights. Your Instagram will thank you!
Dog-friendly cafes
Looking for a relaxing morning meal with your pet? Your pooch can enjoy a lazy morning in the sun at the House of Tallulah, while you sip on a pawfect cup of coffee.
Where are some great dog-friendly spots South Australia?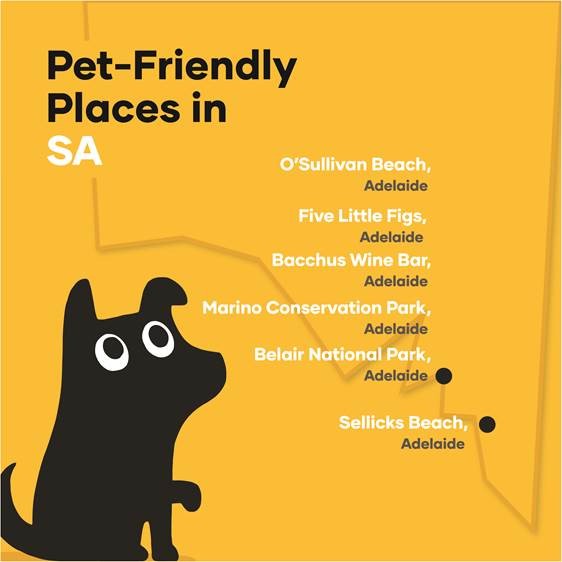 Dog-friendly beaches
The O'Sullivan Beach in Adelaide will have you dog's tail wagging. The Adelaide dog-friendly beach stretches from the south of Selway Terrace down to the north-side of Heather Street, so just leave your leash at home and plan for a day of adventure!
Also a 24/7 off-leash beach, Sellicks Beach in Adelaide is located south of the city. Your pooch can frolic free in the open exercise areas.
Dog-friendly parks
Give all four legs a good stretch at the Belair National Park in Adelaide. With numerous picnic areas, tennis courts and walking trails, it's the perfect place to get active with your pet.
Explore, hunt and smell your way through the Marino Conservation Park in Adelaide. Enjoy stunning scenic views over Brighton, Glenelg, Grange and the Marino Rocks Lighthouse.
Dog-friendly cafes
The Bacchus Wine Bar in Adelaide doesn't only have dog-friendly muffins, they'll keep your pooch entertained with toys, plants and plenty of water in the outdoor dining area. Impressive, isn't it?
Or try the Five Little Figs in Adelaide. Where your furry friends can enjoy free treats and doggacinos, while you chill out with a coffee of your own.
Where are some impressive dog-friendly locations in Western Australia?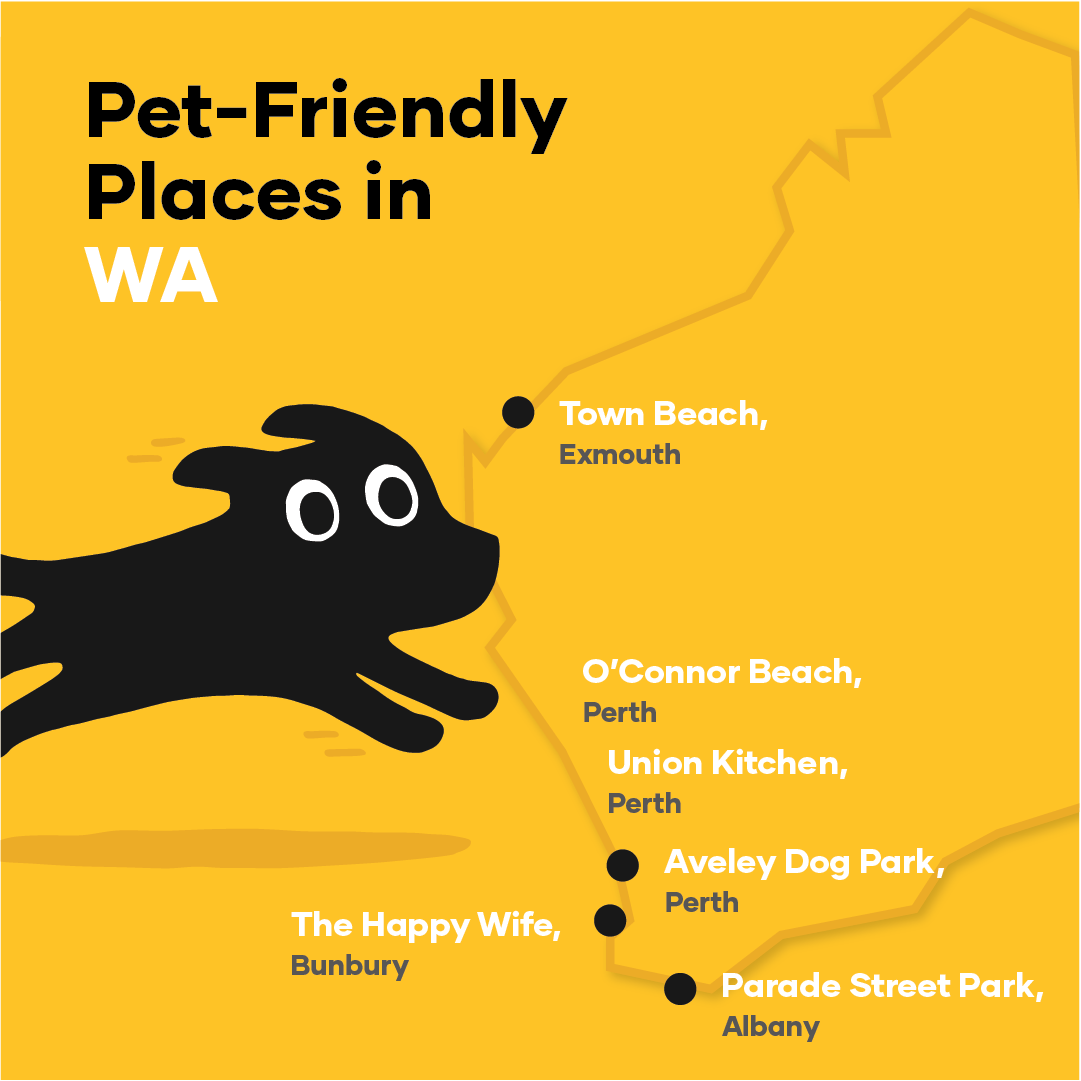 Dog-friendly beaches
There's nothing better than beach days with your best friend, isn't that right? At dog-friendly C Y O'Connor Beach in Perth, you can take a dip, throw a frisbee and enjoy the calm waters to paddle around in.
Relax at Town Beach in Exmouth, where you and your four-legged friend can enjoy a lovely beach day. Ah, the serenity.
Dog-friendly parks
Looking for a place to exercise with your pet? Run around leash-free at Parade Street Park in Albany. There's so much to explore.
Does your dog enjoy adventures? Of course they do! Visit the Aveley Adventure Park in Perth. Plenty of agility equipment, seating and water fountains for them to play in.
Dog-friendly cafes
The Happy Wife in Bunbury will make sure your pooch is hydrated while you enjoy a lovely lunch. Talk about hospitality!
Does your pet pal deserve a day of relaxation? Your dog can enjoy the VIP treatment at Union Kitchen in Perth. There's even a doggy menu where they can order mutt-shakes and doggacinos!
There's so much you can do with your four-legged mates in Australia!
Whether it's a local day trip, or a trip into another state, remember to check out these dog-friendly spots.
Because everything's better when you have your best mate by your side.
Where to find dog-friendly places in your State/Territory
Of course, this list isn't exhaustive, there are a lot more dog-friendly places in each and every State and Territory. We have simply compiled a short list of the popular choices amongst locals. If you're already familiar with these spots or would like to explore other areas, here are some sources where you can find other dog-friendly places in your State/Territory;