Hands up if your dog has been thrilled with how much time you've been spending at home recently? These unprecedented times mean that we've all had to make adjustments to our regular lifestyles, including the ways that we care for our pets.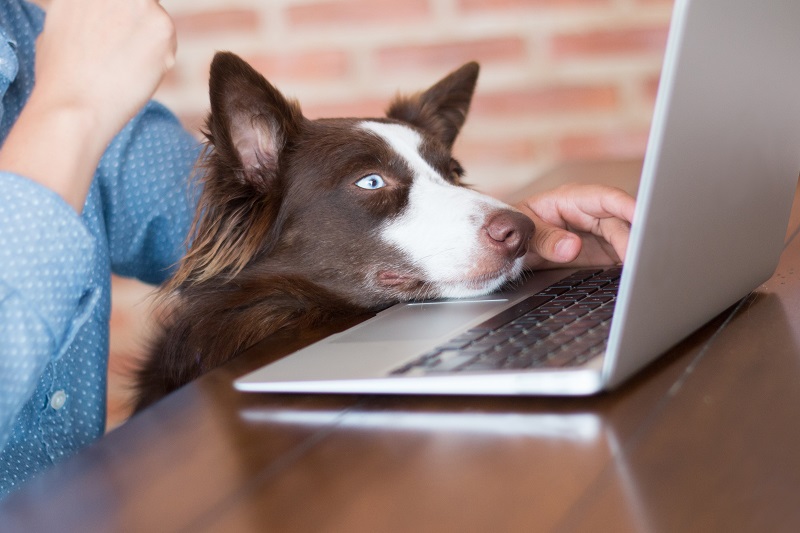 At Petbarn, your pets' well-being is our top priority and we want to ensure that you have everything you need to keep them healthy and safe in case of further self-isolation and social distancing measures. We're working closely with our suppliers to make sure that the products you need are available. You can learn more about how to check if your favourite items are in stock here and about the Zero Contact delivery options we've introduced to keep our pet parents and team members safe.
Tick off each action from our checklist of quarantine care essentials for dogs and rest assured that you're doing the best you can to give your canine companion the care they deserve!
Portion control food and treats
Even though things are constantly changing, one thing remains the same – your dog's love for food! By being at home more, you might find yourself giving in to those puppy dog eyes and slipping your best mate more treats or kibble than usual. Be sure not to overfeed your dog and adjust their meal proportions accordingly if you've given them other food throughout the day. Remember, treats should only make up 10% of their diet as they're treats and not a meal.
Stay on top of their health
In case of a further quarantine, it's best to plan ahead and make sure that you have all your dog's health essentials on hand. Remember that even if you and your pet are staying indoors, parasites can find their way in from the garden or may already be lying dormant in your environment. Keep your pets and human family safe by making sure you have an extra supply of flea, tick and worm treatments available as well as any prescription medication and prescription food your dog requires.
Our Greencross Vets clinics are still open when you need us most, and have introduced Minimal Contact Pet Care measures so you and your pet can receive high standards of veterinary care while staying safe.
Provide your dog with plenty of exercise and stimulation
While you should still be taking your dog out on daily walks right now, if we are quarantined you'll be spending more time indoors or within the yard than usual. If you're reducing their physical exercise, make sure to keep your dog mentally stimulated while indoors by providing them with interactive toys and games such as automatic ball launchers and gaming devices.
For solo entertainment, provide your dog with a variety of toys! You can hide some treats in a Kong so your dog can puzzle out how to access them, or you could get in on the fun and play hide and seek with your pet or creating an obstacle course for them to weave around, crawl under and jump over. This time could also be a great opportunity to teach your dog new tricks! Your dog may know the basics of sit and stay but do they know how to do a high five or give you a handshake?
Re-toilet train apartment dogs
We know you've likely invested a lot of time training your dog not to do their business within your apartment but desperate times call for desperate measures and if you're quarantined in an apartment without access to a garden, this means your dog will have to learn to potty indoors.
The best way to teach your dog about their new place to go is to wait for a time that they need to do their business, for example after waking up or after a meal. Grab some waste bags and take them over to your designated potty area which you can set up with training pads or even a grassy pet loo, and reward them with a tasty treat once they get it right.
Maintain your hygiene
Even on a regular day, our Greencross Vets will recommend that you discourage your dog from licking your face because while there's no evidence that dogs can contract COVID-19 or that dogs and humans can spread COVID-19 to each other, there are always other zoonotic diseases that you should take care to avoid.
When taking your dog out for a walk, it's highly recommended that you avoid congregating with other people. Also, refrain from patting other people's dogs and ask others to not pat your dog until we're all in the clear and then you can let your dog have all the pats they want.
At this point in time, there's no reasons to believe that this virus can live on your dog's fur but if you're concerned, you can give them a nice warm bath. Like usual, make sure to always wash your hands after you've played with and patted your dog.
Petbarn and Greencross Vets are united in safeguarding your dog's health. Just as you're caring for them remember that your pets are here caring for you by boosting your mental and physical health. The best thing you can do for your pet right now is to plan for the future and ensure they have what they need in case of a quarantine. All your pet essentials are in stock at Petbarn where we've introduced Zero Contact delivery options to ensure that you stay safe and healthy.