With our second annual Pet Dating event fast approaching we thought it was the purrr-fect time to share with you some of our favorite Petbarn Adoption stories!  These stories will give you a laugh, melt your heart and hopefully inspire you to come on down Saturday 14th February to meet many more of these little guys just waiting to meet their purr-fect partner!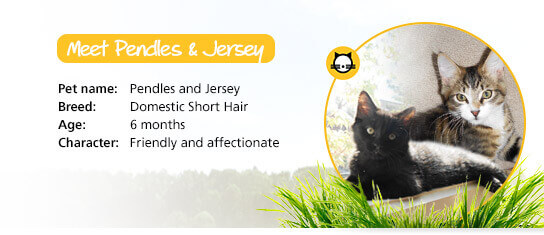 Meet my beautiful boys, Pendles (black) and Jersey (white/brown). We also have two older cats (Neon and Jovi) and they are 5 years old. We adopted them when they were 3 months old and they had a hard life prior to this.
We were at Petbarn buying cat food for our two older boys one day and my husband wandered off for 5 mins. When he came back he said "I've fallen in love with Pendles and we have to get him. I hate seeing him in the cage". I was a bit wary to start with as I wasn't sure how our older boys would react and I wasn't too sure about bringing a kitten into our house of 5 year old cats. I went over and had a look at Pendles and my husband was right. He was beautiful. I said "Well I would feel more comfortable if we adopted two kittens, then they would have each other to play with, grow up with, bond with". So, I had a look at the kittens sitting in the cages at Petbarn. Jersey looked up at me with his green eyes and pretty face and I knew he was the one. Staff took Jersey out of the cage and I held him. He looked up at me and nestled into my neck. It was the best moment as I fell in love with him on the spot.
We took them home and separated them for the first week and then slowly introduced them to our older cats. There was obviously some hissing to begin with by the older boys but after 6 weeks they all play with each other, sleep with each other and are best friends. I couldn't be happier and love our family. – Tara and Ashley adoption parents to Pendle and Jersey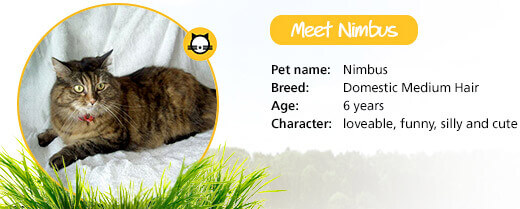 "Nimbus was sadly left behind by her previous owners when they moved to a new house. Nimbus was found and taken to Lort Smith Animal Hospital and then taken to the Petbarn adoption centre which is where we saw her and decided to adopt her.
We already had one cat, Missy, and a Jack Russell, Sugar, both adopted from rescue shelters. We decided that it would be good for Missy to have a playmate, and as she was already an adult cat we wanted another adult as we thought they would be more compatible. Missy can be a bit grumpy and we were worried about how she would react to a new family member, but after a day of general crankiness, she accepted Nimbus and they became friends!
As far as we are concerned, adoption is the only way to go. So many animals end up in shelters and it is impossible to find loving homes for them all. If you adopt an animal, you save a life."

"Bentley was brought into the Lort smith Animal Shelter with his brother and sister when the owners could not find new homes for the litter. Once Bentley was medically checked and given his vaccinations, he was taken to the Petbarn Adoption Centre in Chadstone.
There were plenty of nice people who wanted to take Bentley home but the staff at Petbarn Chadstone wanted to make sure he went to the right family. They say "dogs choose their owners" not the other way around and the moment I met Bentley we clicked right away. I've been waiting to find the right puppy for some time now. The day I took Bentley home I had everything ready for him; a new bed, toys, a kennel, a de-shedding brush and bowls for his food and water.
Adopting Bentley is one of the most rewarding things I've done and I recommend it to anyone considering getting a new dog. Saving a life and gaining a best friend is a feeling that everyone deserves to experience."
For these and many more amazing adoption stories Click Here. We hope to see you in store this Valentines day!