The benefits of mixed feeding and why it's a great way to mix up mealtimes for your pet, improve their wellbeing, happiness and health.
Dry and Frozen: Frozen food creates a fun and interesting combination when added to any dry food base. It's hydrating, nutritious, flavoursome and adds freshness that you can store and use as needed. As cats prefer food that is warm, frozen food is perfect as you don't even need to thaw it – just defrost in the microwave and serve warm to tantalise your kitty's tastebuds!
Dry and Raw: Raw food provides a great source of protein and moisture to your cat's diet, perfectly paired with dry food for a mix of texture for a complete and balanced meal. Raw food can be fed to your cat as is or cooked  to really treat your cat and make them feel like part of the family. Don't forget to use gloves and different cutting boards and utensils in preparation.  Make sure you're either feeding your cat raw meat that is made for cats, or raw meat that you purchase for your human family. Follow manufacturers recommendation in storage, preparation and handling.
Dry and Wet: Wet food is always a great go-to option for a cat, with a combination of flavours and variety that felines love. Just add a portion of dry food to provide variety in texture too. Cats' whiskers are very sensitive, and they hate them touching their bowl, so be sure give them their wet and dry blend on a plate so they can really get stuck in and lick it clean!
Dry and Fresh: A fresh food option is perfect to feed to a fussy feline who wants natural real food. Combine approximately three quarters dry food with one quarter fresh food for a nutritionally balanced meal, providing your cat with all the nutrients it requires and a mix of textures for variety.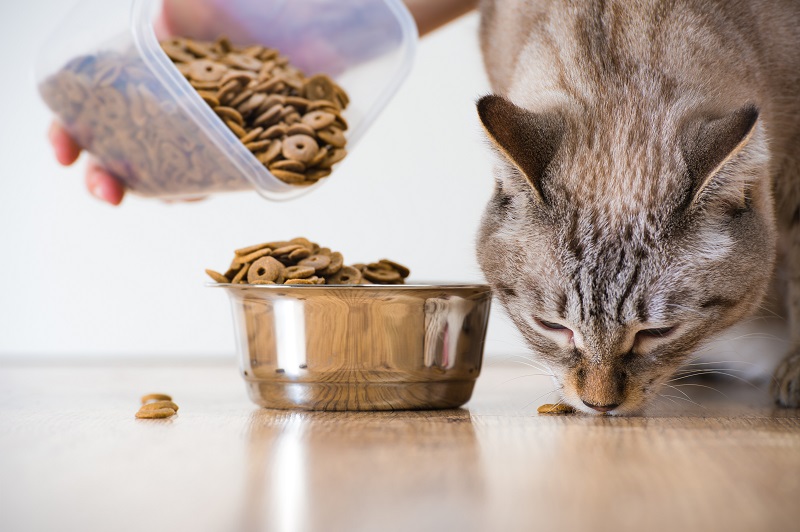 Build A Better Bowl
Here's some tips on how to add variety to your cat's bowl:
Mix n' match combinations to build your bowl
Dry, Wet and Topper:
Build a fancy feline bowl:
Dry: https://www.petbarn.com.au/pro-plan-urinary-adult-cat-food
Wet: https://www.petbarn.com.au/science-diet-chicken-adult-cat-food-85gx12
Topper: https://www.petbarn.com.au/ziwi-peak-air-died-east-cape-adult-cat-food-340g
Dry and Fresh:
Build A Tasty Feline Bowl:
Vet approved, salmon bowl
Fresh: https://www.petbarn.com.au/leaps-bounds-chicken-salmon-cat-barf-1-38kg
Dry: https://www.petbarn.com.au/science-diet-feline-adult-indoor-cat-food
Dry and Frozen:
Build A Fussy Feline Bowl:
Fancy, nutrient bowl
Frozen: https://www.petbarn.com.au/leaps-bounds-kangaroo-vegetable-cat-barf-1-38kg
Dry: https://www.petbarn.com.au/science-diet-feline-adult-hairball-control-cat-food
Treat: https://www.petbarn.com.au/furfresh-freeze-dried-nz-green-lipped-mussels-dog-treat-48g
Dry and Raw:
Build a Purrfect Kitten Bowl:
Carnivore, balanced bowl
Raw: https://www.petbarn.com.au/pets-deli-kangaroo-cat-mince-200g
Dry: https://www.petbarn.com.au/leaps-bounds-ocean-fish-thyme-cat-food
Treat: https://www.petbarn.com.au/greenies-roast-chicken-cat-treat-60g
Dry and Wet:
Build a Satisfying Bowl:
Seafood, variety bowl
Dry: https://www.petbarn.com.au/leaps-bounds-ocean-fish-thyme-cat-food
Wet: https://www.petbarn.com.au/fancy-feast-classic-seafood-grilled-cat-food-can-85gx24