Sherron Maddon and her family recently lost their cat – a beloved member of their family. The Maddon family has recently rescued Panda by adopting him and welcoming him into their home, and everyone is enjoying the cat love!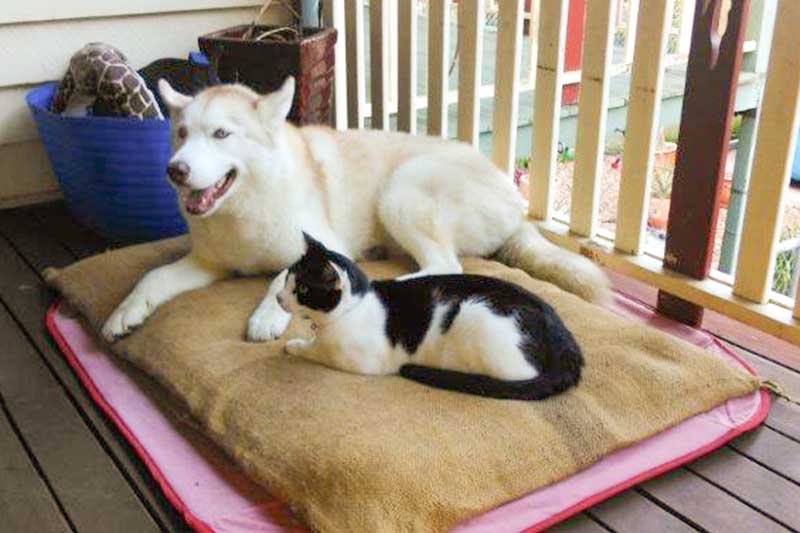 We recently lost our beautiful 18-year-old cat, which left a hole in our family life. We discussed the possibility of adopting a mature cat from RSPCA in February after our holiday. However Panda had other ideas! Saturday before Christmas I was madly trying to complete my Christmas shopping and headed into Petbarn Browns Plains to purchase a gift for my sister when Panda called out to me. I shop at the Browns Plains store regularly and had never seen animals in the adoption centre so he took me by surprise.
He won my heart in an instant and after a call to my partner I was filling in adoption papers. I still had a few stops and presents to buy so Panda had to stay at the store for a couple of hours until I was finished. Melissa (the wonderful lady who patiently walked me through the decision making and adoption process) said after I left Panda went inside the closed part of the cage and didn't come back out until I returned…..he had his new family and didn't need to look any further.
Panda now has a new sister and playmate Ruby, the Siberian Husky, who adores him and a brother Jet, a Shetland who's not quite sure of him! He loves his new house and has climbed on everything, including the top of the kitchen cupboards, and hidden under every chair to terrorise the dog. He is snuggly and very affectionate and also extremely playful and agile. He now has more toys than he knows what to do with, a content belly and cuddles on tap. Panda has brought cat love back into our home and family (extended family included) and keeps us all on our toes.
I would recommend adoption to anyone looking for a new family member and feel blessed to be able to provide Panda with a new home, new family and a loving life.
Thank you to Melissa, Petbarn and RSPCA!
Petbarn offers adoption services in many stores across Australia. Visit our adoption services page to find out more, or head to your local Petbarn store!