Emma was set on a purebred cat, but seeing Major's face changed everything!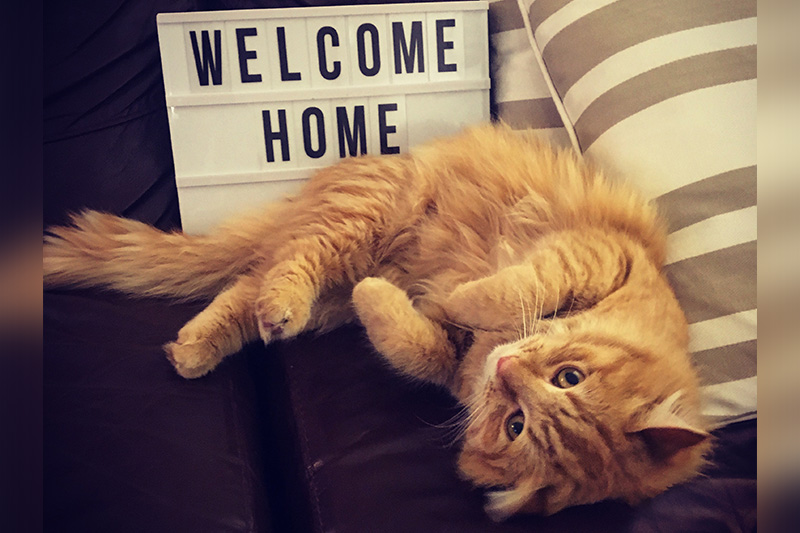 For someone who thought she'd never fall in love with another ginger cat, it's fair to say that Emma has found the perfect match in Major. Though Emma was initially looking for a purebred cat, the sight of Major's little face at her local Petbarn store proved irresistible. "Once I met Major, I was instantly in love," says Emma. "We are so pleased we found him as he's had a huge impact on our lives."
This 13-month-old ginger cat has totally settled in to his new life. "He was a little timid when I first saw him, but he's definitely opened up since we brought him to his forever home."
You tend to get asked 'what's he like coming from an animal shelter?' or 'is he damaged?' I can assure you he isn't damaged and fits in perfectly within the family. Also, he was already toilet trained, desexed and microchipped. What more could we want?"
Any qualms Emma had about the whole adoption process were put to ease by the Petbarn team. "They were extremely helpful," she says. "They walked me through what food he would require now he is an adult cat and the benefits of feeding a super premium diet. We also were given a care guide for cats which helped to provide all the information we needed to keep Major healthy and happy."
As Major settled into his new home, he started to share loads of personality. "He's super cuddly and affectionate. We often wonder if he's more of a dog than a cat, as he follows us around the house!"
A few months on, how's life with Major? "We enjoy nights in, watching the TV together and he gives us a reason to come home early to feed and play with him." And, based on her experience, how does Emma feel about adoption? "Saving a life is a special thing! I've recommended adopting pets from Petbarn and RSPCA to my friends and family. Since then, my best friend has recently adopted an 11-week-old kitten."
You can find more information about Petbarn's adoption services here. Imagine the difference you could make to an animal in need!