When Emma Gardner had to say goodbye to her beloved Birman cat, called Daisy-Jane,who knew what (or who!) was around the corner?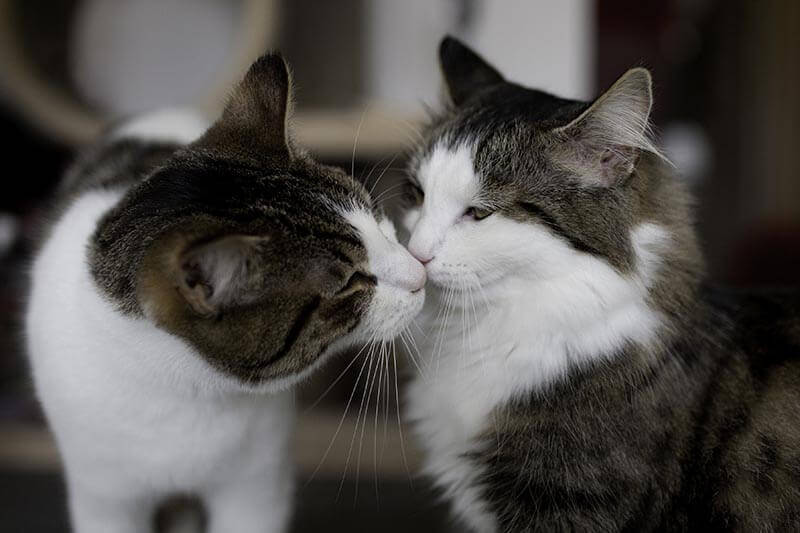 In September, both my mum and I had our hearts broken from having to say goodbye to our beloved 16-year-old Birman, Daisy-Jane, who had been very unwell for some time.  Even with our three gorgeous dogs at home, it was still very quiet and empty without her and I think they sensed it, too.  There was a big hole left behind from Daisy-Jane but I always knew that the next time I was to own a cat, I would adopt it from a shelter or a cat rescue organisation.
After meeting some cats at a shelter, I thought maybe the right one wasn't there just yet, as none of us really 'clicked'.  So, on the way home, mum and I dropped in to Petbarn in Mornington to see if perhaps Peninsula Cat Rescue may be there with some of the cats they had for adoption.  After talking to one of the foster carers, she introduced us to Ollie (left in image) and Abby (right in image) and that was it!  After meeting them both, they just seemed like one of gang!  Abby is around two years old and had already had a litter of kittens, whilst Ollie was around seven months old and incredibly shy.
When we got the pair home, Abby had a little sniff around and then it was if she was thinking "yep, this is home for the rest of my days"; she just settled in straight away and was head-butting and purring constantly.  Ollie hid under the beds for a couple of days, before coming out in the dark to crunch on some biscuits and then popping up on the bed and chirping.  He has come such a long way since then, he's still a little tentative with some things, but curiosity gets the better of him and then he's alright.  He's most confident when he's with Abby and he absolutely idolises her and talks to her and calls for her, which is just the sweetest thing.
So, here we are three months later, and it's just like they've been here for years.  There are laughs galore, especially from Abby when she goes completely silly and races around the house and dives in to the cat tunnels and hides behind the curtains.  Ollie and Abby have given us so much joy and love and the dogs, too!  This is one happy little household and it's also thanks to the wonderful efforts from Peninsula Cat Rescue that we adopted these two funny, wonderfully affectionate cats.