Buy 2 for $25.49
Michu Mixed Tofu Heavy Duty Cat Litter 6L
This product has been added to your cart
People who bought this also bought
Helps transition from Sand to Tofu
The Michu Mixed Cat Litter effectively assists cats that are transitioning from clumping sand cat litter to tofu. It also features a cyclone dust removal process making it a healthier choice for you and your pet.

Heavy-duty cat litter
Highly recommended for families with multiple cats in their homes, Michu's 10-in-1 mixed cat litter is heavy-duty as rocks clump tighter to better lock in unwanted odor.

Good for elderly cats
This specially-formulated 10-in-1 cat litter mix is suitable for elderly cats with its fast absorption, keeping your cat cleaner and healthier. The consistency is just right and prevents an elderly cat from sinking to his ankles. Digging is also not difficult when it comes to this special cat litter mix. Creating rock-solid and easy to scoop clumps, pet owners can maintain a clean environment for older cats, especially for those who are experiencing mobility issues.

Super strong odor control
Michu's Mixed Cat Litter contains K4 nano-ore crystals with a higher number of nano-scale micropores that boost odor absorption by more than ten times! With its unbeatable odor control along with anti-bacterial properties that kill 99.9% of odorous bacteria, your home will be safer and healthier not just for your pets but for your family as well.

Flushable for convenience
To make clean-up and disposal even more convenient, Michu created a flushable mixture that will not clog your toilets.

• Helps transition from Sand to Tofu
• Heavy-duty cat litter
• Good for elderly cats
• Super strong odour control
• Flushable for convenience


Michu, the cat people
We take great pride in being an Australian-owned business that operates globally, offering innovative cat supplies to our clients.
With hundreds of thousands of loyal customers in the United States and Australia, we are committed to creating a perfect harmony between practicality and style in all our products.

OUR CORE MEOW VALUE- YOU TELL, WE LISTEN
At Michu, we are committed to delivering the best quality products to our customers. We value your feedback and strive to continuously improve our products with each new generation. Our dedication to using environmentally-friendly materials, energy-saving technology, and innovative designs sets us apart as a brand that cares about our customers and the planet. With each new product, we aim to exceed your expectations and deliver a unique and satisfying experience.
You tell us what you need, and we will listen, ensuring that our products always meet your needs and desires. At Michu, we are more than just a brand, we are your partner in creating a beautiful and sustainable world for you and your furry friends.
Why choose Michu tofucat litter?
Petite Paw – Friendly Pellets
The smooth texture and small size of the pellets feels inviting and comfortable under cat's paws when they dig and walk in the litter tray.
Recyclable Packaging
Recycling packaging helps prevent damage during transportation and faciliate storage.
Biodegradable Plant Cat Litter
Michu tofu cat litter is made of all-natural peas, cornstarch and green tea extract raw materials, which is a pure plantbased dumping cat litter with safe ingredients.
100% dust free
Michu's formula does not contain any ingredients that cause dusts. We are proudly making dust-free product for our customers.
100% natural plant:
Pure and safe
Instant clumping & 5X Water Absorption:
Quick and efficient
Toilet Flushable:
Convenient and eco-friendly
Super Odour Control:
Fresh and clean
Michu Castle Litter Box, Fit for Royalty
The Michu Castle Cat Litter Box is a revolutionary product that offers a unique solution to traditional litter boxes. With its elegant design, it seamlessly blends in with any home decor style, providing a functional and stylish addition to your living space. Its basin-style top doubles as a comfortable resting place for your feline friend, while the drawer-style bottom simplifies litter handling.
This innovative product has disrupted the litter box market and has been a top-selling semi-open litter box product in Australia for multiple quarters. Experience the perfect combination of functionality and style with the Michu Castle Cat Litter Box.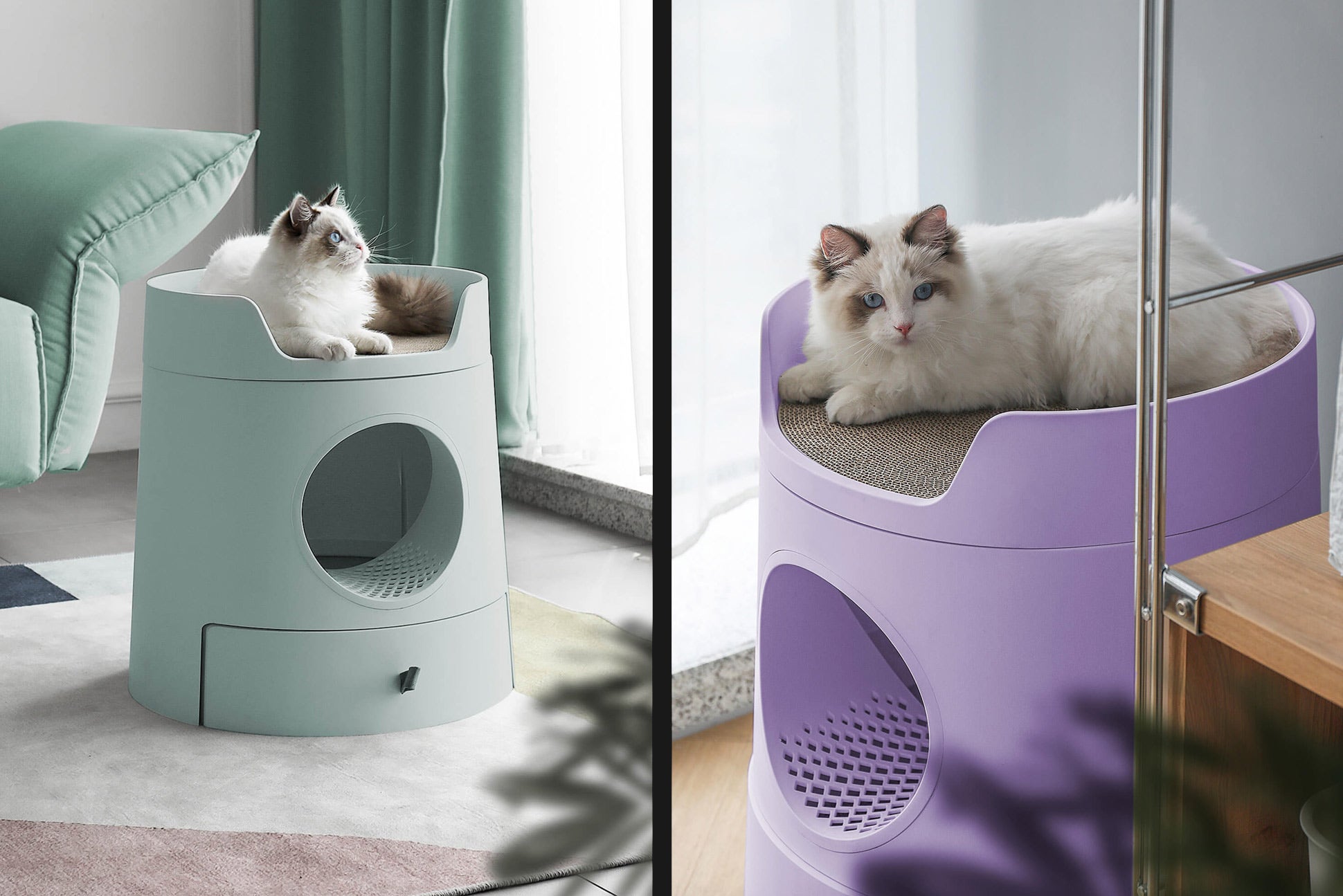 History of Michu
When we founded Michu in 2019, we knew that we had a unique opportunity to create something truly special in the world of cat supplies. As lifelong cat lovers and dedicated pet owners ourselves, we were determined to create a brand that would set the standard for excellence in both functionality and style.
Today, Michu is recognized around the world as a brand that represents quality, innovation, and style. Our products can be found in homes across the United States and Australia, and our loyal customers continue to inspire us to create new and exciting products that push the boundaries of what's possible
Discover Michu Range
From the very beginning, we set out to create products that would reflect the sophistication and elegance of our own homes, while also providing the practicality and durability that cats and their owners require. Through tireless research, development, and testing, we've succeeded in creating a range of products that truly elevate the lives of cats and their owners.
Additional info

| | |
| --- | --- |
| PPU Number Of Units | 6.000000 |
| PPU Unit | 1L |
| Litter Type | Odour Control |
| Size | 6L |
| Brand | Michu |
| Litter Material | Tofu |
| Litter Features | Clumping |
| Product Category | Cat Litter |